Guangdong takes front seat in budget revenue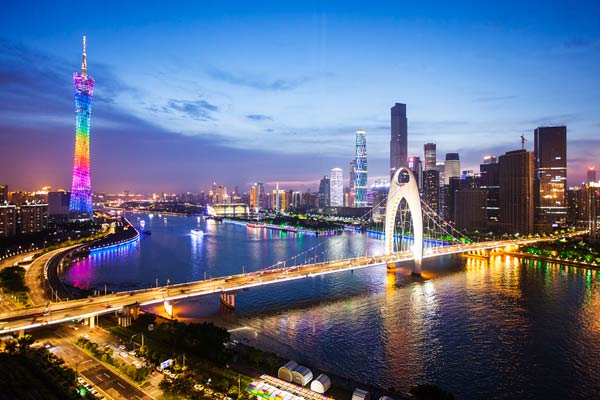 The Guangzhou skyline at night, Guangdong province, July 16, 2016. [Photo/VCG]
Guangdong province reported highest public budget revenue of 1.04 trillion yuan ($151.4 billion) in the country in 2016, while three provinces suffered declines.
Shanxi, Xinjiang and Heilongjiang province registered negative growth in fiscal revenue, dragged down by the soft commodity price and capacity reduction, according to the 21st Century Business Herald.
The contract comes as modern services play a vital role in leading provinces. Tertiary industry accounted for 61.3 percent of Guangdong's GDP growth in 2016, up from the national average of 51.4 percent.
About 49.3 percent of above-scale industrial output in Guangdong came from advanced manufacturing, according to the newspaper. Research and development expenditure rose to 2.58 percent of the GDP in 2016, which led to a 21 percent increase in effective patents.
Guangdong's gross fiscal revenue rose 9 percent to 2.28 trillion yuan last year, while public budget revenue attributable at provincial level jumped 10.3 percent in comparable terms to 1.04 trillion yuan.
Jiangsu province and Shanghai followed with last year's budget revenue of 812 billion and 640 billion yuan respectively.
Beside the third place in absolute figure, Shanghai also reported the fastest growth in budget revenue, a year-on-year increase of 16.1 percent, according to the newspaper. The growth is boosted by tax revenues from innovation and technology sectors.
The revenue surge even outran Shanghai's GDP growth of 6.8 percent. Tertiary industry accounted for the city's 70.5 percent of GDP.
Despite an expanding revenue gap between the eastern regions and the rest, most of the central and western provinces saw stable fiscal expenditures thanks to the transfer payment from the central government, said the newspaper.
In the work report by Shanxi government, officials attributed the reasons behind budget revenue decline to the structural problem of its economy which centered on mining and State-owned enterprises.
Xinjiang reported a 2.4 percent in budget revenue, as dragged by the price cut of crude oil and natural gas. The province vows to optimize fiscal expenditures and win over more subsidies from the central government to upgrade the economy, said the newspaper.
According to the Ministry of Finance, the country's fiscal revenue stood at 15.96 trillion yuan in 2016, increasing 4.5 percent year-on-year.