Food chain wants to grow fast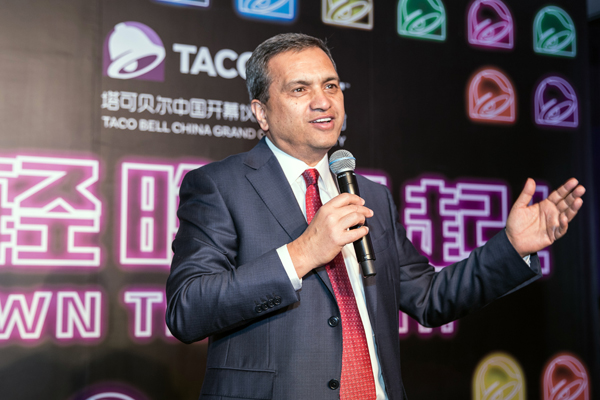 Micky Pant, CEO of Yum China, makes a speech at the opening ceremony of Taco Bell's Shanghai restaurant in January. [Photo provided to China Daily]
Led by Micky Pant, Yum China finalizes expansion plan
Even with a track record of setting up nearly 600 restaurants per year in China, and managing around 7,500 KFC, Pizza Hut, Little Sheep and East Dawning stores in the country, Micky Pant, chief executive officer of Yum China Holdings Inc, remains cautiously optimistic about the comeback of Taco Bell, the Mexican-themed chain under the fast-food giant.
Pant, who steers the company behind labels such as KFC and Pizza Hut in China, believes that time is ripe to test diners' appetite for nachos and cheese.
"We choose Lujiazui, the financial hub of Shanghai, to open the first store because it is a combination of travelers, businessmen and the young, making it an ideal place to find out who is attracted to Taco Bell," said Pant.
KFC and Pizza Hut restaurants, found across Chinese cities, had powered parent Yum Brands' local unit's growth for long by fulfilling local consumer demand for a taste of Americana.
With a revenue of $6.75 billion in 2016, Yum China retains the largest market share in the fast-food segment, according to consultancy Euromonitor International.
As domestic competition intensifies and the rising middle class seek healthier and go beyond Western fast food for fine-dining experiences, Yum China is rethinking its China strategy.
It spun off its Chinese entities into a licensee through an initial public offering on the New York Stock Exchange in November 2016. The float plan, according to Pant, will give Yum China the flexibility to react to the fast-changing market, and gain extra momentum for expansion.
The fourth quarter of 2016 alone saw Yum China add 302 new restaurants, accounting for more than half of the 575 new outlets it opened last year; it also posted an operating profit of $75 million, or 17 cents per share, beating analyst expectations.
Pant is known to seize opportunities in a country where development phases vary. Top-tier cities like Shanghai are ideal testing grounds for new brands to get a better reading of the market. And thousands of newly constructed cities would help its massive expansion plan and boost sales.
Pant travels a lot across the country, and is a fan of Chinese food. But he's most impressed by the scale and quality of "world-class" infrastructure like airports, high-speed rail lines and new trade zones, which persuaded Yum China to set up shops in over 1,100 cities.
More importantly, it has set for itself an ambitious goal: 600 new stores per year in the coming five years. "Now we have 7,500 stores in China, but in the United States we have more than double the number of restaurants for one-fourth of the population. So we sense a lot of growth opportunities here," Pant said.
Another strategic priority for Yum China is to deliver positive same-store sales growth. Apart from restaurant remodels, the firm has embraced digital channels for sales and delivery services, and introduced cashless payment methods by teaming up with China's ubiquitous e-wallet service providers Alipay and WeChat Pay.
Taco Bell is enticing customers with coupons on public WeChat accounts, a common practice in digital marketing in China. "Customers here are so well-informed and use cellphones intelligently to decide where to eat and find discount coupons."
Yum is also investing heavily in logistics like courier services. It runs the largest food delivery business in the sector and hosts 20,000 delivery drivers in China.
Small wonder, 17 percent of the firm's sales went through mobile payments, and delivery accounted for 10 percent of its business.
Meanwhile, competitors have been quick to wrest market share by meeting consumer demand for fresher and healthier food in Asian flavors. According to market research firm Mintel, tangbao (steamed dumplings), Japanese noodles and steamed-rice meals are quickly gaining momentum in China.
To fend off competition, Pant is leading the team to improve food offerings to make them contemporary and nutritious. For instance, KFC in China has the most dishes on menu across the world, serving congee breakfast and including a lot of vegetable and rice dishes.
The new Taco Bell store in Shanghai features an open-concept kitchen that puts its ingredients and food preparation processes in full view of the diners.
"For all the challenges, you can look at them as opportunities. Our biggest challenge is how fast can we grow here," Pant said.