Lego's Jiaxing plant raises fresh FDI hopes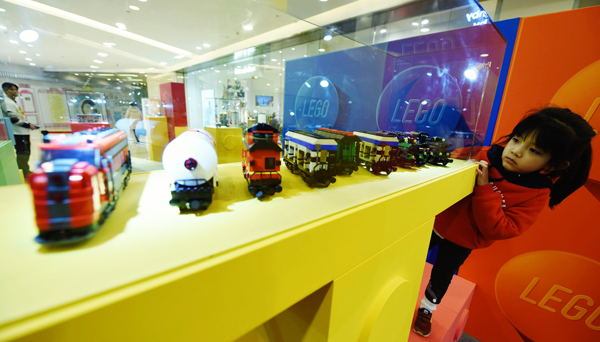 A girl watches locomotive models made of Lego chips in Hangzhou, capital of Zhejiang province. LONG WEI / FOR CHINA DAILY
Whether or not foreign investors will continue to bet on China as its economic growth slows will likely become clear in a 160,000-square meter new plant in Jiaxing, Zhejiang province, East China.
At November-end, world famous toy producer Lego Group opened its first Asian plant in Jiaxing. Six months earlier, Lego Group had just opened its largest flagship store in Shanghai Disneyland, which is also the first one in Asia.
Behind these moves, Lego has a bigger plan to open chain stores in 40 Chinese cities in the next four years, aiming to expand the market from first-tier to second- and third-tier cities by 2020 through a combination of online and offline sales, according to the company.
Lego appears optimistic about the Chinese market, if its course since 2015 is an indication. Its sales revenue in China rose more than 30 percent, almost doubling its global sales growth in the same year.
"We are very optimistic about the future of the Chinese market," said Wang Li, vice-president of Lego China. "Lego has seen the fastest growth in China. With easing birth control and upgrading of consumption structure, the number of consumers in China would keep increasing and the toy industry sees great potential in China, the world's largest toy manufacturing and exporting country."
The Lego story reflects a big change happening in China: consumption and some other industries are becoming new engines for GDP growth and have created unprecedented opportunities for foreign enterprises.
In the first three quarters of 2016, terminal consumption in China contributed more than 70 percent to its GDP growth, and the added value of the tertiary industry weighed more than half in GDP. Meanwhile, the high-tech industry, the internet economy and strategic emerging industries grew fast.
Opportunities in the internet economy brought by Chinese economic transformation and rapid internet development have also attracted LinkedIn, a US career social platform.
Before LinkedIn entered the Chinese market in 2014, there were only 4 million registered users of LinkedIn in China. Now, the number has hit 28 million.
The Internet Plus policy has vigorously facilitated cross-border and regional movement of talent and knowledge with innovation emerging everywhere, said Yu Zhiwei, vice-president of LinkedIn China.
CA Technologies China, an information technology management software and solutions provider, believes that digital transformation is becoming a trend in China. About 92 percent of Chinese enterprises surveyed are embracing digital technologies, remodeling their business and interactive mode with clients.
According to statistics from the Ministry of Commerce, the actual use of foreign investment in the high-tech service industry surged 98 percent year-on-year in the first 11 months of 2016, and that in the computer application service industry recorded a year-on-year growth of 123 percent.
"The market of applied economy in China is very big as operating performance of Chinese enterprises nowadays is closely related to the application of digital technology," said He Jinpei, chief director with CA Technologies China.
Besides, transformation of the traditional industrial sector in China does not seem to have dampened foreign companies' enthusiasm for the Chinese market. World leading construction and mining equipment manufacturer Caterpillar has set up its largest R&D center outside the US market in China.
It is also vigorously promoting application of its smart machines in China, making clearer its strategy to base its global manufacturing business in the country.
"China's Made-in-China 2025 plan and the Belt and Road Initiative have created good opportunities for the development of global companies like Caterpillar," said Chen Qihua, vice-president of Caterpillar. "China's economic development would play an important role in the synergetic development of the world economy."
German industrial giant Thyssenkrupp sees huge market opportunities in China's urbanization, smart cities construction, and the development of China's western region. Gao Yan, CEO of Thyssenkrupp China, believes that China has incomparable growth and potential in mechanical components and elevator technologies than any other markets in the world.