Shanghai to shake up state enterprises ownership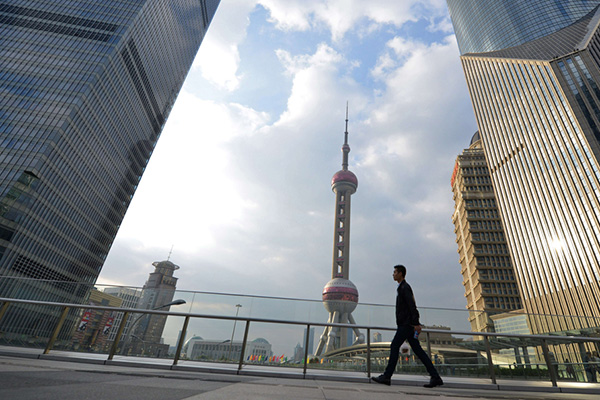 A pedestrian walks through the financial district of Shanghai on October 16, 2013.[Photo/VCG]
Shanghai has unveiled new measures to reform State-owned enterprises (SOE), including allowing employees of 10 pilot SOEs to hold shares, the 21st Century Business Herald reports.
Shanghai plans to help two or three SOEs to publicly list their entire company or their core business assets this year.
The city would also promote 10 qualified mixed-ownership models with employees given shares.
Two or three scientific research institutes have also been urged to deepen reforms and establish diversified investment and a market-oriented management mechanism.
Deepening SOE reform and developing a mixed-ownership economy is the top priority this year. Other major tasks discussed at the meeting included improving State-owned assets operation platforms and incentive mechanisms.
Shanghai previously proposed that more than 85 percent of State-owned assets focus on strategic emerging industries, advanced manufacturing, modern service, infrastructure and other major sectors related to social well-being, by the end of the 13th five-year plan period.
In 2017, Shanghai will adjust the structure of State-owned assets, increase investment worth of 400 billion yuan ($58.28 billion) to the target sectors, according to the meeting.
China has about 150,000 SOEs which hold more than 100 trillion yuan in assets and employ over 30 million people.
China published complete guidelines on its SOE reforms in September last year, promising to start mixed-ownership pilots, opening up more industries to private capital, and build modern enterprise systems.