US finds on final steel dumping margins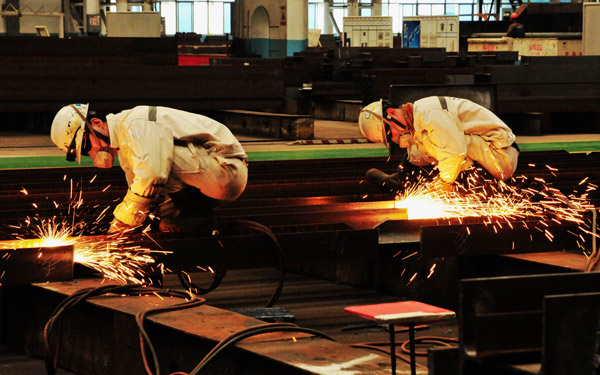 Workers cut steel plates at an offshore oil-drilling platform near Qingdao, Shandong province. [Photo/China Daily]
The US Commerce Department on Thursday stepped closer to placing duties on imports of stainless steel sheet and strip from China, issuing a final determination that the products were being subsidized and dumped in the US market at below fair value.
The department said it affirmed anti-dumping duties ranging from 63.86 percent to 76.64 percent on the imports, and an anti-subsidy rate of 75.60 percent for mandatory respondent Shanxi Taigang Stainless Steel Co Ltd.
The duties will go into effect for five years if the US International Trade Commission subsequently affirms its earlier finding that US producers were being harmed.
AK Steel Corp, Allegheny Ludlum IPO, North American Stainless and Outokumpu Stainless USA had brought the case seeking relief. Imports of the products from China were valued at an estimated $302 million in 2015, according to the department.
The US International Trade Commission is scheduled to make its final determination of injury to US producers on or about Mar 20.
In December, China filed a complaint with the World Trade Organization arguing against the refusal by the EU and the US to treat China as a market economy.
"The EU has continued to use the unfair and unreasonable surrogate country method and seriously harm the interests of Chinese enterprises," trade remedy and investigation bureau chief of the Ministry of Commerce Wang Hejun said in a statement.
Chen Xin, director of the business department of the Chinese Academy of Social Sciences' Institute of European Studies, said that China has been actively cutting back steel capacity in recent years to ease the global overcapacity.
"China's steel exports are competitive in quality and price because of the scale of economy," Chen said.
Meanwhile, the government has been making efforts to shut down outdated furnaces throughout the country to upgrade the steel industry.
The short-term goal of China's capacity reduction is to cut crude steel capacity by 15 percent, or 27 million tons, within three years starting from 2016, according to the National Development and Reform Commission. The capacity reduction goal of 45 million tons for 2016 was reached in October.