Forum will explore economic solutions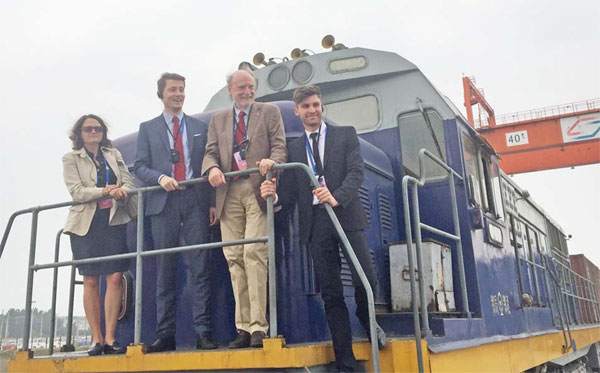 European representatives at the Zhengzhou-Europe Block Train during their visit to Zhengzhou, the capital of Henan province. Chen Yingqun / China Daily
Belt and Road gathering to be year's diplomatic highlight
By hosting a high-level forum on the Belt and Road Initiative in May, China aims to boost an open and inclusive economy amid rising protectionism and loud voices against globalization, said the country's top diplomat.
The Belt and Road Forum for International Cooperation, which will be held in Beijing on May 14 and 15, will "explore ways to address problems facing the global and regional economies", State Councilor Yang Jiechi said in an interview with China Daily and People's Daily.
The forum will be the biggest diplomatic event hosted by China this year amid Beijing's efforts to advocate interconnectivity and cooperation to invigorate the global economy, observers said.
The Silk Road Economic Belt and the 21st Century Maritime Silk Road, proposed by President Xi Jinping in 2013, aim to boost interconnectivity by reviving the ancient trade routes with a focus on infrastructure.
In his keynote speech at the World Economic Forum in Davos, Switzerland, last month, Xi announced the Belt and Road forum, which he said will be a platform for the countries to look for solutions to global economic problems.
Leaders from about 20 countries have confirmed their participation, representing Asia, Europe, Africa and Latin America at the forum, said Yang, who is in charge of the forum's preparatory work.
China will also invite ministerial delegations, representatives of global organizations, former foreign heads of state, business leaders, experts and scholars to join the discussions on how to promote cooperation.
The agenda for the forum, which will have the theme "Belt and Road: Cooperation for Common Prosperity", will focus on connectivity of policy, transportation, trade, finance and people.
Yang said the initiative is not an empty slogan, but a series of concrete actions to boost connectivity and infrastructure development.
"This will be conducive to expanded regional investment and domestic demand, job creation and poverty reduction and to a higher level of development of the entire region," he added.
More than 100 countries and international organizations have joined the initiative, among which more than 40 have signed cooperation agreements with China.
Ruan Zongze, vice-president of the China Institute of International Studies, said that the Belt and Road Initiative is a public service provided by China for the world.
"The international community has higher expectations toward China nowadays, and China should shoulder the responsibility within its capacity," he said, adding that China will share development opportunities with countries along the route.
The Belt and Road forum is expected to boost the world's confidence toward globalization when some countries turn to protectionism while facing economic slowdown, said Wang Yiwei, a professor of international relationship studies at Renmin University of China.
During Xi's five overseas trips last year, he made continuous efforts to call on countries to cooperate with China on the initiative.
He said in June that trade volume between China and countries along the routes had reached $1 trillion-one-fourth of China's total foreign trade volume.