Chinese app unleashes Kenyan talent, brands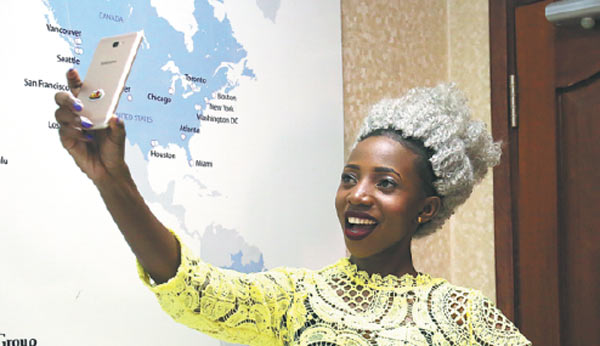 Juliet Omondi broadcasts live to her fans in Kenya using Chinese app Live-Baze. [Photo by Edith Mutethya/China Daily]
Tipping Points Technology Limited, an information and communications technology company based in Hangzhou, Zhejiang province, East China, is bringing new opportunities for Kenya's performing artists through its live streaming app Live-Baze.
The artists are able to display their talent, earn money and fame, and receive virtual gifts from fans. Launched in October last year, the free app features exclusive content like music, dances, gaming, live chats and behind-the-scene activities at events and concerts.
Nearly 70 experts from such disciplines have already found in Live-Baze an e-platform to reach audiences as large as 5,000. Live-Baze users buy credits through Paypal or Mobile Money to offer virtual gifts to performers.
For their part, artists help peddle merchandise through endorsements and hyperlinks on the app. Live-Baze generates revenue through commissions on transactions for virtual gifts like e-diamonds that can be converted into cash. Fifty e-diamonds equal one Kenya shilling (Ksh). TPTL's agent receives such gifts through M-Pesa, a popular mobile money-transfer service in Kenya.
So far, the company has invested $8 million and is confident of success. TPTL is partnering with Southwell Solutions Africa Ltd, a local app firm, to integrate mobile payments into Live-Baze.
Steve Thiga, Southwell's project manager, said the initial focus is on getting more and more Kenyans to use the app first and understand its features.
They will be helped by 20 stand-out live streamers-online celebrities with a strong social media presence-that Live-Baze is planning to hire full-time from its current pool of 70 artists. For these additional services during allotted online time, each artist will be paid up to $300 per month.
As Live-Baze streamers, online celebrities are expected to convert their followers into app users. This has implications for products and services relating to entertainment, fashion, cosmetics and music, said Thiga.
Mobile internet subscriptions in Kenya, whose population is 48 million, stand at around 40 million, with smartphones accounting for 44 percent of mobile phones.
Thanks to the availability of low-cost China-made smartphones and 4G services in most parts of Kenya, TPTL is planning to encourage local corporates to open their own live streams on Live-Baze and use them to market their products. "The opportunities for marketing and brand building are huge," said Thiga.
And this applies not just to companies but even talented individuals, he said. "From our research, we feel there is potential for a talented individual to earn 100,000 Kenyan shilling ($985) to Ksh200,000 per month."
To square up against Facebook and Instagram that have already introduced Facebook Live and Periscope respectively in Kenya, Live-Baze has been giving away a monthly Baze Race Award to its top three artists with the most number of followers. The award entails cash prizes of Ksh10,000, Ksh5,000 and Ksh 2,000 respectively.
Juliet Omondi, 25, who streams content like daily fitness routine, cooking and do-it-yourself interior design, has won the award twice already. Typically, she receives 300-400 views when online.
Unlike other live-streaming platforms, Live-Baze allows her to be herself, she said. "My fan base has increased tremendously. I also receive numerous enquiries. Sometimes, fans call when I'm offline and request me to go online. All this is an amazing experience for me."
For livelihood, the English literature graduate works as a farmer, fashion stylist and make-up artist, and is planning a show featuring celebrities and opinion-builders. "Kenyans want content, and that's the only way I can grow my viewership."
Like Omondi, Paskaline Jebet, 22, is a winner of the Baze Race Award. Her stream features DIY creative art and dance, and has up to 400 viewers during peak hours.
She said Live-Baze has expanded her talent and keeps her on her toes literally, because viewers always crave fresh content. So, Jebet comes up with new moves and interesting creative ideas to keep them engrossed.
All the interactive activity has transformed a hitherto reticent Jebet into an outgoing, articulate and confident performer.
The land administration undergraduate works as a high-fashion model and runway coach, and plans to use Live-Baze to sell her creative ideas to her viewers.
Streaming isn't fun always, however, and poses challenges and tricky situations, Omondi said. For example, phone battery tends to exhaust quickly. Handsets could overheat. Calls may come in during broadcasts.
"To receive a call, I've to sign out of the app. Else, my viewers get to hear the conversation. By the time I resume, most of the viewers would have left. So, I'm planning to buy a tablet exclusively for nonstop streaming," said Omondi.