China's cross-border capital flow stable: SAFE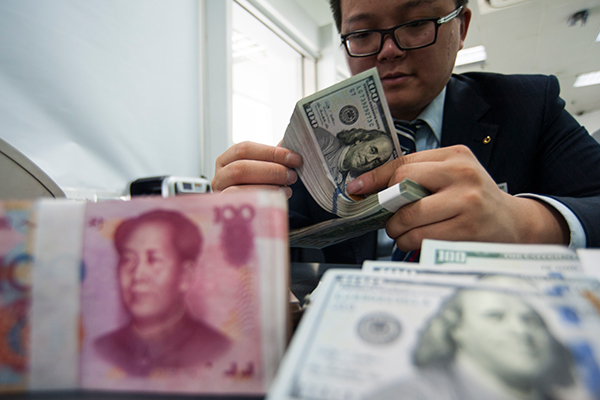 An employee at a bank counter in Nantong, Jiangsu province, counts renminbi and dollars. [Photo/China Daily]
BEIJING - China's cross-border capital flow has remained stable with no surges in foreign exchange (forex) purchases, the State Administration of Foreign Exchange (SAFE) said, responding to rising concerns about capital flight after a sharp fall in the government's forex reserves.
China's forex reserves dropped for the fifth straight month in November, standing at $3.05 trillion, the SAFE said on Thursday.
The figure is the largest monthly drop since January this year, and it brings the reserves to the lowest level since March 2011.
The SAFE, through an anonymous official, dismissed huge pressures of capital outflow, saying the situation is still controllable.
November's forex sales deficits in banks, although increasing month on month, were still substantially lower than the beginning of 2016, when the Federal Reserve raised US interest rates, the official said.
"We have not found any surges in forex demand from either businesses or individuals," the official said. "Under the capital account, most companies still purchase forex according to schedule, while in terms of portfolio investment there is a surplus for QFIIs."
The official acknowledged that individuals bought more forex last month due to cross-border shopping sprees but said the increase was actually lower than the average level in recent years.
Chinese investment bank CICC attributed the forex declines to a strong US dollar backed by expectations of an interest rate hike of the Federal Reserve, which has put the Chinese yuan under downward pressure. Last month, the yuan fell 1.69 percent versus the dollar, but has been relatively stable against a basket of other currencies.
The official said there is a solid basis for cross-border capital flow to remain stable, citing less pressure from external debts, an opening inter-bank bond market bolstered by the yuan's inclusion into the IMF's reserve basket, and a stable yuan exchange rate index.
"The stronger US dollar has appeared to be the only factor influencing China's capital flow as the sound economic fundamentals have not changed," the official said.
The official cited China's steady GDP growth, a current account surplus, abundant forex reserves, sound fiscal conditions, stable financial systems, and new growth momentum created by economic reforms.
The official reiterated that regulators will continue to crack down on illegal capital transfer disguised as outbound investment.
Chinese authorities said on Tuesday that they are closely monitoring "irrational" overseas investment activities.
The official cited four forms of such activities: newly established firms investing overseas without real business; company investment volume that substantially outweighs its registered capital; investment targets unrelated to a company's main business; abnormal sources of company capital related to suspected illegal asset transfers and underground lending.
SAFE will continue to support capable and qualified businesses to carry out outbound investment activities in accordance with regulations, the official stressed.
The official also warned of irregular forex purchases by individuals and said it will cancel forex purchase quotas for two years for those involved in serious violations.