Yuan's fluctuations not undermine long-term stability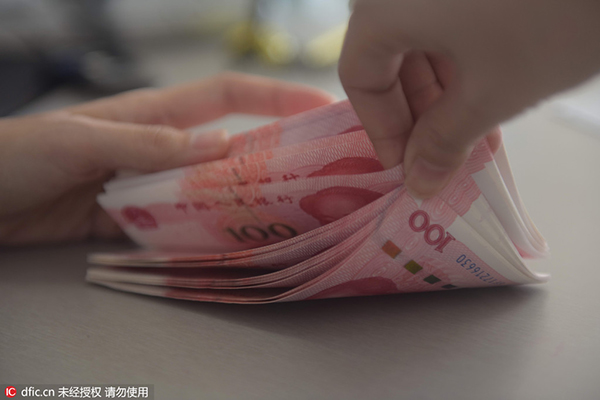 A clerk counts money for a client at an Agricultural Bank of China branch in Hainan province. [Photo/IC]
BEIJING - The Chinese yuan has steadily weakened against the US dollar since the start of the year, sending shockwaves through currency markets. Financial experts have weighed in to point out that the depreciation is, in essence, a self-correction, and the yuan will continue to remain stable.
Self-correction
Pressure on the yuan and other major currencies has intensified this year as the dollar surged.
Black swan events, including Brexit and the US presidential election, drove demand for the greenback as a safe-haven currency, propping up its value.
Accelerated economic growth in the United States, an imminent interest rate hike, and expectations of Donald Trump's expansionary fiscal policies have already caused the Dollar Index to advance 6 percent in the recent two months.
Although the greenback has appreciated against most other major currencies, its value has risen only modestly against the renminbi.
In developed economies, the Japanese yen, the euro and the Swiss franc have weakened 10.5 percent, 5.8 percent and 4.2 percent, respectively, against the dollar since October.
In emerging economies, the Malaysian ringgit, the Korean Won and the Mexican peso have depreciated 7.2 percent, 6.5 percent and 6.1 percent, respectively.
By contrast, the yuan has weakened around 3 percent against the dollar during the period, much milder than other currencies.
"The yuan has been self-correcting recently after its lopsided appreciation of the previous decade," said Ren Zeping, chief economist at Founder Securities, while dismissing concerns that China is engaged in competitive devaluation.
A stable, strong currency
It is noteworthy that while the yuan's exchange rate against the dollar has reached its lowest in eight years, it is gaining value against other currencies.
The yuan has strengthened 7.5 percent, 2.5 percent and 0.5 percent against the yen, the euro and the British pound, respectively, in the recent two months.
It has also appreciated 4.1 percent, 3.3 percent and 1.2 percent against the ringgit, the won and the Singapore dollar.
"The yuan still presents the characteristics of a stable and strong currency in the global currency system," said Yi Gang, deputy governor of the People's Bank of China (PBOC), the central bank.
As China's economy recovers and institutional reform improves the business environment, Yi believes capital outflow will return.
The dollar "looks tempting" in the near term due to the imminent interest rate hike, causing more companies and individuals to opt for the greenback, said Bai Ming, researcher with an institution affiliated with the Ministry of Commerce.
However, with the yuan's internationalization, the demand for the currency will continue to expand on a medium to long term, Bai said.