Stadium set to kick off new phase of ties
Sports complex aims to attract major competitions to African island state
A world-class sports stadium being built by China in the south of Moroni, the capital of the island state of Comoros, will be ready for use next year.
China IPPR International Engineering Co won the bid for the Comoros Moroni Stadium in 2015 and has been working on the project since then.
The project followed an agreement signed between China and Comoros under which Chinese authorities granted financial aid of $14.2 million for construction of the stadium. Total investment for construction is $28.78 million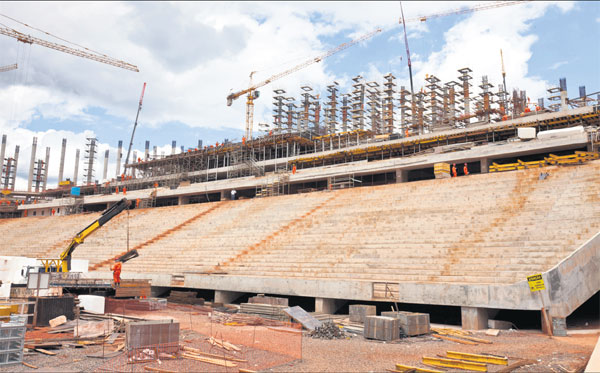 The construction site of the Comoros sports stadium in Moroni Island. Built by China IPPR International Engineering Co, the project will be completed in 2018. Chris Mabeya / For China Daily
"I hope this will allow Comoros and its youth to thrive in sporting terms, increasing the influence of the country in sports at a regional and global level," says Chinese Ambassador to Comoros Xiao Ming.
The sports complex will include a stadium with a capacity of 10,000, a swimming pool and a gym that can accommodate large competitions.
The design takes advantage of space and combines local cultural and climate features. It has received favorable comments because of its functions and natural shape.
The stadium occupies 82,545 square meters and has a capacity of 10,000 people. It includes a small soccer field, training tracks and an outdoor parking lot. The total floor area is 4,350 sq m, with the highest building reaching 19 meters. The grandstand is a reinforced concrete frame structure, and the awning uses a steel frame membrane.
Once completed, the stadium will be seen as a symbol of friendship between China and Comoros.
"I think China has its own goals here. I don't think a state has to give a gift like this," says Mounir Bakhressa, director of Azam Co Ltd in East Africa and a citizen of Comoros. "We need these kind of investments in our country, especially in the infrastructure sector that is so underdeveloped."
Bakhressa says China, the only foreign country investing in big projects in the country, should now focus on road construction to attract more investment to the country.
"Comoros needs good road networks, a modern port, a modern airport. These are projects China should invest in next," he says.
Fatuma Mohammed, a resident of Moroni island in the Comoros, says that by building the stadium, China has provided the country with a good platform to invite other countries for sports activities, which can boost the country's revenue.
"We expect that, with a sports stadium like this, other countries can compete here in sports and our country can participate," she says.
Comoros, like all of Africa, is an increasingly important export market for Chinese goods.
In June, Vice-Foreign Minister Zhang Ming visited Comoros, where he met with Acting President Moustadroine Abdou and held talks with Mohamed Bacar Dossar, minister for external relations and cooperation.
Zhang said China and Comoros enjoyed a profound friendship. Since the establishment of diplomatic relations, bilateral ties have enjoyed healthy and smooth development with fruitful achievements, providing a model for equal treatment, solidarity and cooperation between large and small countries, Zhang added.
Zhang said both sides should take the implementation of the outcomes of the Johannesburg Summit of the Forum on China-Africa Cooperation and the 7th ministerial meeting of the China-Arab States Cooperation Forum as opportunities to actively discuss the effective integration of the Belt and Road Initiative, the China-Africa 10 major cooperation plans, and Comoros' 2030 Development Plan for Emerging Economies. They should strive to transform the traditional friendship and political advantages of the two countries into practical cooperation outcomes that would benefit the Chinese and Comoran people alike.
For China Daily