Pharma industries see opportunity in Africa
Surveys and local expertise are key to success, potential investors are advised
While Chinese companies have made massive investments in various sectors in the African market - such as construction, telecommunications and electrical power - there is minimal investment in lucrative pharmaceuticals.
But the prospect of Chinese companies making inroads in the market are high. TR Medical Instruments Co and Wego are recent entrants into the African market, while Zhejiang Kangle Pharmaceutical Co, Unival and Pan Pacific Neutraceuticals have all expressed interest.
According to Godfrey Wachira, sales and marketing manager at Holley-Cotec Co (EA) - one of the oldest Chinese companies on the continent - Africa's pharmaceuticals sector is robust and growing.
Wachira says there are numerous opportunities that Chinese companies can take advantage of.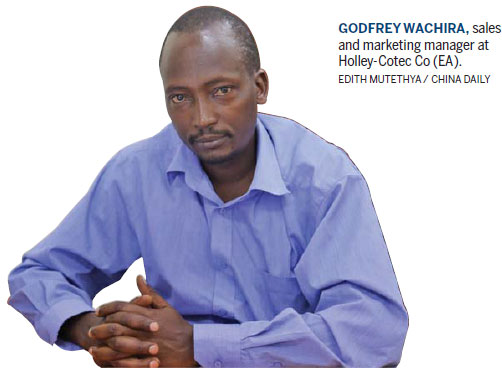 "Some diseases, like elephantiasis and hypo blindness have been neglected. Cancer is also a major issue, as chemotherapy drugs are few. Lifestyle diseases are on the increase. These opportunities should motivate Chinese companies to invest in the continent," he says.
Research by McKinsey & Co dubbed Africa a "continent of opportunity" for pharmaceuticals and patients. It predicted that the industry, which was worth $20.8 billion in 2013, will grow to $40-$65 billion by 2020.
The survey, which was carried out in 2015, predicts that between 2013 and 2020, prescription drugs will grow at a compound annual rate of 6 percent, generics at 9 percent, over-the-counter medicines at 6 percent and medical devices at 11 percent.
While it may be challenging for new entrants to penetrate the market, Wachira says they can take a leaf from Holley Cotec Pharmaceuticals, which has been in the market since 1993.
He says market surveys and engaging local experts are the key to market penetration. Local experts, he says, understand the market and regulatory environment best.
"If you don't have the local expertise, you are poised to fail because this is a foreign market and there is a language barrier - among other challenges," he says. "You must know the culture and where the market wants to go in order to break through."
In Holley Cotec's case, he says, locals run the show in all the countries where it operates. Of a staff of around 20 in Kenya, only two are Chinese nationals - the managing director and the finance director. He considers this strategy one of the company's major strengths.
Wachira says Holley Cotec's performance has been impressive. It currently supplies 180,000 units of anti-malarial doses per year. The company's main drug is an artemisinin-derived anti-malarial called Duo-Cotecxin, which it sells mostly in the private medical market. The product is listed as a secondary treatment for malaria by Kenya's Ministry of Health.
However, with malaria on the decline, Wachira says plans are underway to diversify the company's product portfolio to more quality generic drugs. Contraceptives, he says, are on the list, noting that China is one of the leading countries globally in managing family planning.
"Our products are of good quality and are reliable. All medical practitioners in the country have faith in them," he says.
The company has subsidiaries in Kenya, Tanzania, Uganda and Nigeria.
Holley Cotec, Wachira says, entered the Kenyan market at the right time and with the right product.
"The government had changed a policy in the management of malaria from fansidar to artemisinin and its derivatives. This gave the company an advantage to penetrate the market," he says.
Supplying government agencies, Wachira says, is challenging because most of the time the company doesn't qualify in terms of pricing.
"We offer quality products, and the process of delivering them is expensive. Hence we may not offer low prices," he says.
edithmutethya@chinadaily.com.cn