Chinese company is taking power to Kenya
Three months after the opening of Kenya's first transformer manufacturing plant, Dylan Yu, managing director of Yocean Group Limited, has an even more ambitious plan - to diversify products to better serve the country's power industry.
Yocean has already come to an agreement with its manufacturing partners in China's Jiangsu and Zhejiang provinces about bringing equipment to Kenya for producing insulators and circuit breakers, two core needs in the power line system. The components will be used for power distribution lines and help protect the whole system.
The new equipment and machines will be arriving in Kenya in March, with installation in April. Production of the products will begin in May, Yu says.
"By then, localization will be realized," Yu says.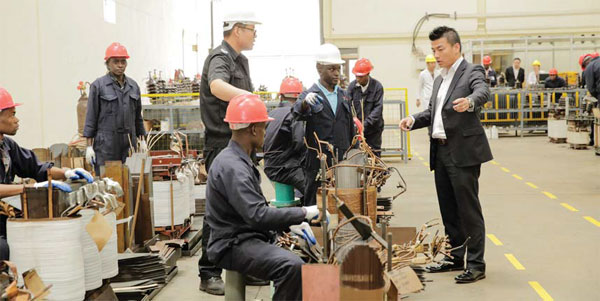 Dylan Yu (right), managing director of Yocean Group Limited, talks to the assembling workshop leaders about the work of the day. Erick Busaka / For China Daily
Yocean is also aiming at projects for power generation that will help Kenya's renewable energy development by expanding the country's resource reserves. Earlier, Yocean contacted Power China Group Corporation - a leading global enterprise in renewable energy and the development of hydropower resources - in anticipation of getting technology support for the power industry of Kenya.
Yocean is now helping some county-level governments in central region of Kenya develop such things as solar power, mini-hydropower. Two of them have expressed willingness to sign a memorandum of understanding with Yocean Group for the development of renewable energy in their region.
Yocean led a delegation from the Kenyan authority on a visit to the corporation in October for further discussions.
Yocean began looking into different markets for power transmission and substations in Kenya in 2014, on the back of government policies designed to boost localized manufacturing. The demand for transformers in the country has grown rapidly since the government put forward ambitious plans to connect more homes to the national grid.
To facilitate the local production of its transformer and other electrical products, Yocean plans to buy 5 acres of land on which to expand its manufacturing base to 5,000 square meters currently in an industrial park in Nairobi. It also plans to inject another $2 million to buy new machinery, equipment and comprehensive testing apparatus.
"Procurement for the new equipment and materials for the production of transformers has been placed," he says.
Three months ago at its inauguration, the company committed to speeding up its procurement process, thereby accelerating plans to upgrade the power network. Yu says the goal is to reach a turnover of $20 million by the end of 2017, and local staff will be more than 150. He also hopes to expand the business to other East African countries.
At the same time, the company has submitted design plans for all kinds of transformers to Kenya Power and Lighting Co, a limited liability company that transmits and retails electricity to customers throughout the country.
Once the designs are approved, sample products will be produced and mass production will follow in Kenya, according to Yu.
In this way, the company will form its own core profit model for sustainable development. It will be able to form a product chain for power transmission, substations, distribution and operation.
"By then, the company will become a network operator in Kenya," Yu says.
When Yocean first entered Kenya, it started with a business trading electrical materials such as supply cables, conductors, over-headline fittings, meters, steel structures and other protective gear to the Kenya market.
"Once the localization of these products is realized, the operating model will be copied to Tanzania, Uganda and Rwanda," Yu says.
The company now employs more than 60 local people and plans to recruit more. New staff members will be trained for marketing and customer care for several months before going to work in neighboring countries, Yu says.
panzhongming@chinadaily.com.cn