Police nab 37,000 in crackdown on drugs in Beijing
Share - WeChat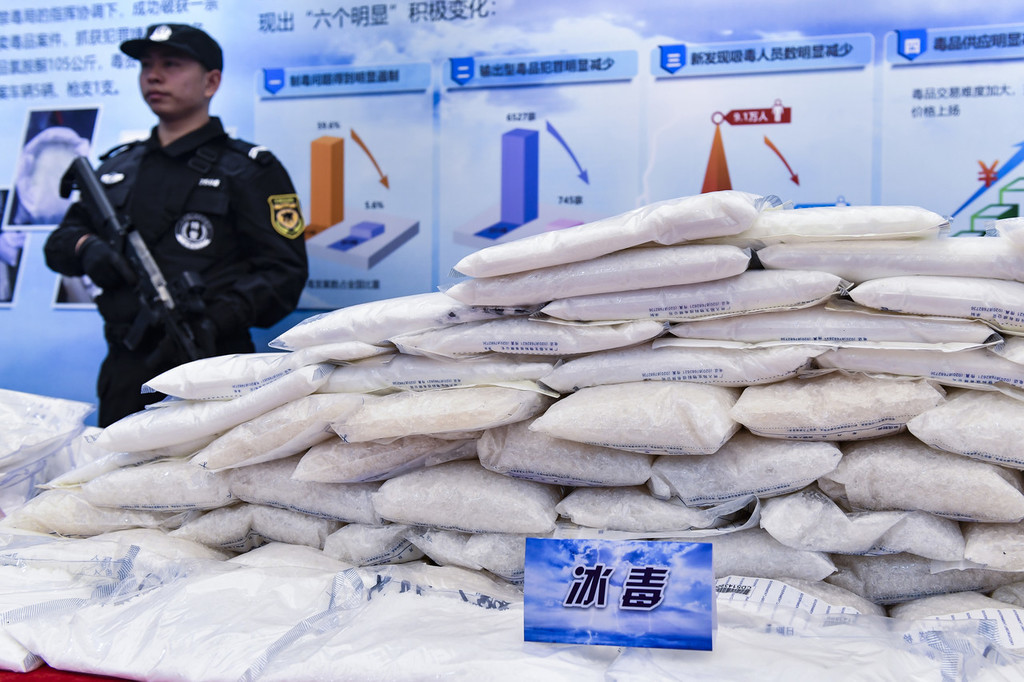 An intensified crackdown on drug use saw Beijing police apprehend 37,000 drug users last year, 1.9 percent more than in 2017, a senior official from the capital's public security bureau said on Friday.
"As the city's crackdown on drug users has continued to intensify in recent years, some underground drug addicts have been discovered through the internet and high-tech detection methods," said Tao Jing, deputy director of the Beijing Municipal Public Security Bureau.
Due to tight control being implemented nationwide, the number of drug users in Beijing has been growing more slowly in recent years, he added.
Drug addicts in the capital were spread across various sectors, ranging from corporate executives and pop stars to the self-employed and unemployed, Tao said.
He said the nature of drug trafficking in the capital had changed in recent years, with social networks and the internet becoming major markets for dealers.
The city cracked down on 236 cases of online drug crimes last year, arresting 278 suspects and seizing 10.2 kilograms of illegal drugs, Tao said.
"Some new drugs, such as 'happy water', a kind of narcotic drug (containing methamphetamine, ketamine and ecstasy), became popular among juveniles and caused great harm to their bodies," he said.
Jin Xuejun, vice-president of the Beijing High People's Court, said the court concluded 1,127 drug crime cases last year, 10.9 percent more than in 2017, with heavy penalties being handed down in just over a fifth of cases.
On June 17, the China National Narcotics Control Commission released a report showing that the number of arrests of new drug users in the country last year fell by 26.6 percent year-on-year, with the number of new drug users under the age of 35 falling 31 percent.
There were about 2.4 million drug users nationwide at the end of 2018, down 5.8 percent from the year before, the report said. The number of juveniles involved in drug-related crimes also declined in 30 provincial-level areas, it said.
However, trafficking remains a concern.
China seized 29.6 metric tons of drugs smuggled from the Golden Triangle last year, up 17.6 percent year-on-year, including 4.6 tons of crystal meth and 1.4 tons of ketamine, said Liang Yun, director of the Ministry of Public Security's Narcotics Control Bureau.
More than 80 percent of the drugs illegally consumed in China come from the Golden Triangle, which straddles Laos, Myanmar and Thailand, the ministry said.
Beijing police, seized 31.35 kilograms of drugs from the Golden Triangle last year. The capital's public security bureau also busted a big cocaine smuggling case in September that led to the seizure of nearly 24 kilograms of the drug.
Methamphetamine is the most commonly used drug in China, with 1.35 million people addicted to it at the end of last year, according to the report released by the narcotics control commission.
xinwen@chinadaily.com.cn
(China Daily Global 06/24/2019 page4)