COSCO Shipping rides the BRI wave to success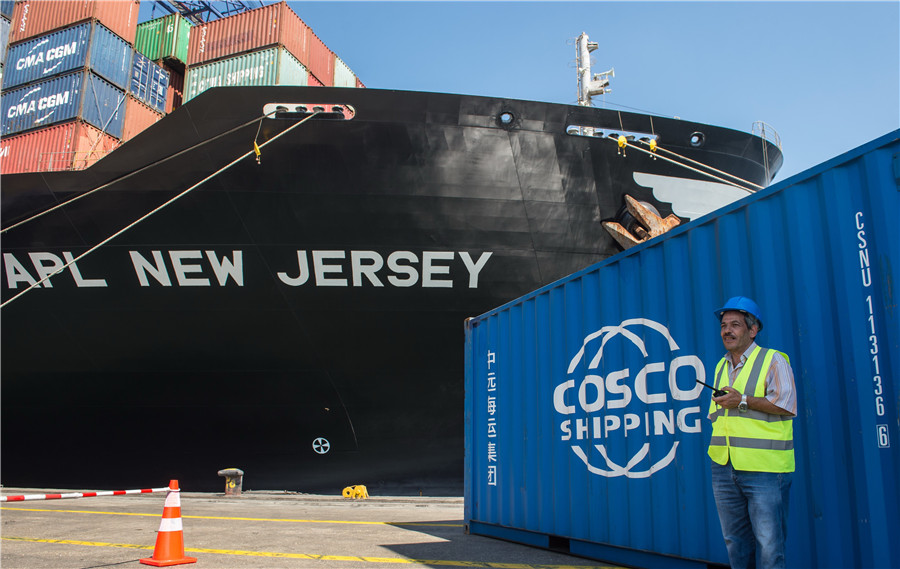 Dry bulk carriers are yellow, container ships are green, oil tankers are painted red, blue ones are multipurpose vessels, and those bearing pink spots are passengers liners.
No, these are not puzzles or a fantasy game. Rather, these are the color codes that come up on a giant screen at the China COSCO Shipping Corp Ltd headquarters on the east side of the Bund in Shanghai, which enables efficient tracking of the company's huge fleet.
COSCO Shipping, which has the largest shipping capacity in the world and the third largest number of container vessels, used to be two independent companies with huge deficits three years ago. All of that changed after the two entities were merged in 2016.
Since then, the company has seen steady progress and growth in its operations, which Xu Lirong, the chairman of COSCO Shipping, attributes to the group's industrial restructure optimization.
Right after its establishment in 2016, COSCO Shipping created an industry cluster development strategy, which is based on shipping, logistics, shipping finance, equipment manufacturing, shipping services, social services, internet and related business with the aid of the internet.
In addition, the group deepened restructuring in its 19 key areas including its headquarters, container shipping, shipping finance, energy transportation, bulk cargo, terminals, logistics, heavy industry, overseas divisions and networks.
"The restructuring has elevated COSCO Shipping's efficiency and boosted the group's further development," said Xu.
The shipping industry is highly correlated with the development of international economy and trade. "Currently, more than 85 percent of the world's trade is completed by shipping," said Xu.
Amid the development of China's economy and the nation's ongoing efforts in opening up, COSCO Shipping is not content with its own development.
In July 2018, COSCO Shipping made another giant stride by acquiring Hong Kong-based Orient Overseas Container Line, the shipping unit of Orient Overseas International Line, jointly with Shanghai International Port Group, for $6.3 billion.
This acquisition made COSCO Shipping the world's third-biggest container carrier, after Denmark's Maersk Line and Switzerland-based Mediterranean Shipping Co.
"Scale is the deciding factor for the competitiveness and profitability of a shipping company," said Zhou Dequan, research director of the Shanghai International Shipping Institute.
This is especially critical for container shipping, which is regarded as the bread and butter of shipping enterprises, according to Xu. COSCO's container shipping capacity will extend to 3.1 million TEUs (twenty-foot equivalent unit) by the end of this year.
By the end of March, COSCO Shipping was operating 487 container vessels with a combined capacity of 2.96 million TEUs, and its 1,285 ships' total capacity reached 102.83 million dead weight tons. DWT is a measure of how much weight a ship can carry, not its weight, empty or in any degree of load.
The joint acquisition of Orient Overseas Container Line by COSCO Shipping and Shanghai International Port Group also suggested that collaboration between shipping enterprises and related sectors enables them to better tap business opportunities in countries and regions related to the Belt and Road Initiative.
"Collaboration has helped create a platform for the shipping and terminal business development and transformation," said Zhou.
Currently, COSCO Shipping is operating 174 container liner routes (1.61 million TEUs) in countries and regions related to the BRI, accounting for 58 percent of its total container capacity.
Looking ahead, COSCO Shipping is planning to be a leading logistics supplier chain service provider that is capable of taking responsibility for China's economic globalization.
"Shipping is closely linked to trade and economy, it is a highly competitive industry that is irreplaceable for its flexibility and capability to transport all kinds of goods," said Xu.
Shanghai International Port Group, which operates the Port of Shanghai, is another company that has realized the benefits of collaboration with other shipping firms. The operator of "the world's largest container port" for nine consecutive years since 2010 handled 42.01 million TEUs of containers in 2018.
SIPG has identified several development opportunities in countries and regions involved in the Belt and Road Initiative, said Yan Jun, president of SIPG.