Luckin Coffee files for US IPO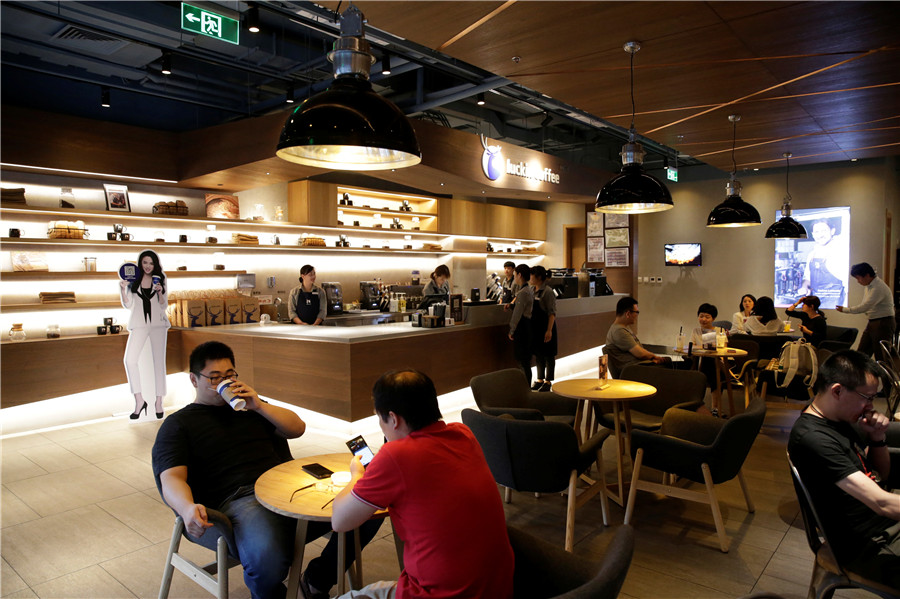 Beijing-based company charts ambitious plan to take on bigger rival Starbucks
Beijing-based Luckin Coffee Inc, the ambitious coffee chain startup that is challenging Starbucks in China, filed for an initial public offering with the US Securities and Exchange Commission on Monday.
The coffee unicorn said it plans to raise around $300 million from the IPO on Nasdaq, according to a report from Bloomberg in February. Last week, Luckin raised $150 million from BlackRock and other investors at a valuation of $2.9 billion.
Since its inception in June 2017, Luckin stores have quickly expanded to 2,370 in 28 cities across China, with backing from investors including Singapore sovereign wealth fund GIC Pte and China International Capital Corp.
The coffee startup aims to become the largest coffee network in China in terms of number of stores by the end of this year.
Focusing on convenience and affordability, Luckin has lured lots of consumers through its free vouchers and discounts, and is considered the second largest coffee chains in the nation in terms of number of stores and cups of coffee sold, according to a report from market consultancy firm Frost & Sullivan.
The chain operates three types of stores - pickup stores, relax stores and delivery kitchens. Pickup stores accounted for 91.3 percent of its total stores as of March 31. The company's stores have limited seating and are usually located in areas with high demand for coffee, such office buildings, commercial areas and university campuses.
It took 20 years for Starbucks to reach more than 3,700 stores in China and grab more than 50 percent of the market share, based on data from Euromonitor International.
Wang Zhendong, chairman of consultancy firm Shanghai Feiyue Investment Management Co, said Luckin's strong capacity in capital raising has not been backed by a sound performance. During the first quarter of this year, the company incurred losses of 552 million yuan ($82.1 million), with a still declining revenue growth.
More importantly, its single store revenue on monthly average dropped from 84,000 yuan during the last quarter of 2018 to 72,000 yuan in the first quarter, according to Wang's calculation.
"Luckin Coffee should consider closing its non-profitable stores and focus on quality growth," Wang said.
Earlier this month, the company said it had agreed with Louis Dreyfus Company Asia Pte Ltd, an affiliate of Louis Dreyfus Company BV, a leading merchant and processor of agricultural goods, to form a joint venture for constructing and operating a coffee roasting plant in China. Louis Dreyfus has agreed that it will purchase $50 million worth of shares from Luckin Coffee.
Fueled by new contenders in the Chinese market, Starbucks has recently sped up its expansion and product diversification. It is opening a new store roughly every 15 hours with an aim to have 6,000 sites in China by 2023.
Starbucks will unveil its first batch of cocktail-inspired summer beverage on Thursday, including eight kinds of flavors that are locally innovated and are low fat, zero additive products. The new beverage, equipped with 11 types of cups that can be reused at least 20 times, will be in store at all Starbucks' outlets and in delivery at 35 cities as well.
Starbucks has to develop localized products to please younger consumers to enhance its market leader position. Innovations are key to growth in new customers and repeat orders from existing buyers, Wang said.