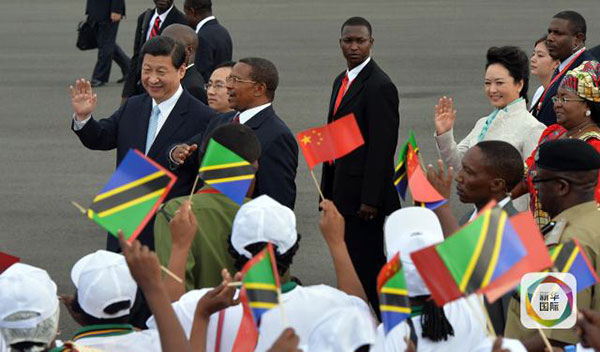 President Xi Jinping and his wife Peng Liyuan are welcomed by Tanzanian President Jakaya Mrisho Kikwete and his wife Salma Kikwete upon their arrival in Dar es Salaam, Tanzania, March 24, 2013. [Photo/Xinhua]
President Xi Jinping arrived in Pretoria Wednesday for a state visit to South Africa before co-chairing the Johannesburg Summit of the Forum on China-Africa Cooperation (FOCAC).
The China-South Africa comprehensive strategic partnership is witnessing rapid development, and relations between the two countries have entered the best times in history, Xi said upon his arrival after concluding a two-day visit to Zimbabwe.
It is President Xi Jinping's second state visit to Africa after taking office in 2013. The African Continent was Xi's first foreign stop in his canlendar as the Chinese President, having visited Tanzania, South Africa and the Republic of Congo in March 2013.
Ties between President Xi and African leaders show the friendship between China and Africa.