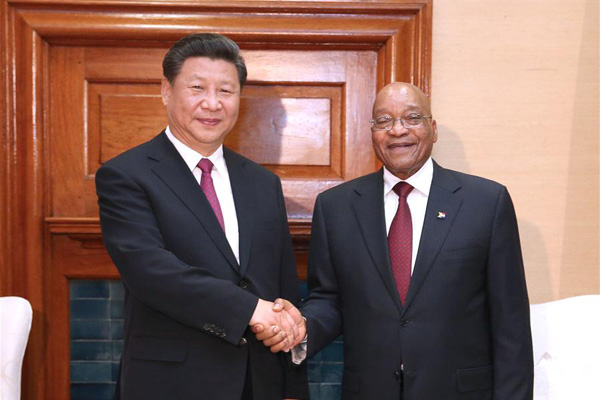 Chinese President Xi Jinping (L) holds talks with his South African counterpart Jacob Zuma in Pretoria, South Africa, Dec 2, 2015. [Photo by Ma Zhancheng/Xinhua]
PRETORIA - Chinese President Xi Jinping arrived here Wednesday for his second visit to the "rainbow nation" since becoming China's head of state.
Besides meeting with South African leaders in an effort to strengthen bilateral ties, Xi will also co-chair with his South African counterpart, Jacob Zuma, a summit on China-Africa cooperation in Johannesburg.
The South African side gave Xi a grand welcoming ceremony on Wednesday, during which a 21-gun salute was sounded and the two presidents inspected the guard of honor in front of the imposing Union Buildings, which houses the offices of the presidency.
In their talks after the ceremony, Xi and Zuma discussed ways to further the comprehensive strategic partnership between the two emerging economies, and agreeing to lift bilateral ties to a new height by fully implementing the 5-10 Years Strategic Plan on Cooperation between the two nations.
"With joint efforts of both countries, China-South Africa comprehensive strategic partnership has seen good momentum with enhanced political trust and increasingly pragmatic cooperation in various fields, which has brought about tangible benefits to the two peoples," said Xi.
STRENGTHENING PARTNERSHIP
China and South Africa should strengthen partnership in various aspects, Xi said, calling on the two countries to be forward-looking strategic partners with strong mutual trust, development partners pursuing equality, mutual benefit and win-win cooperation, friendly partners who understand and learn from each other, and global partners who support and coordinate closely with each other.
Highlighting steady bilateral cooperation between the two countries, Zuma welcomed more investment from China and hoped the two sides could promote more fruitful cooperation in such areas as trade, technology, energy, marine products, commercial aviation and financing.
South Africa, Zuma said, encourages people-to-people exchanges, and will strengthen coordination and cooperation with China within the multilateral mechanisms like the United Nations and Group of Twenty (G20), and on major global issues like climate change.
Zuma also expressed his support for China's hosting of the G20 summit, which will take place in the eastern city of Hangzhou on Sept. 4-5 next year.
After their talks, Xi and Zuma also witnessed the signing of documents on cooperation in such fields as economy, trade, culture, science and technology.