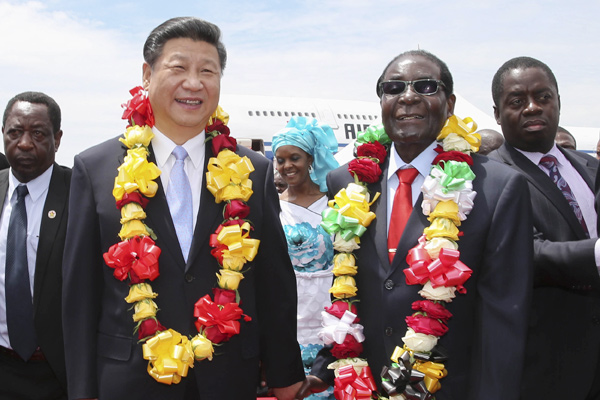 President Xi Jinping is welcomed by Zimbabwe's President Robert Mugabe upon his arrival in Harare on Tuesday. Xi called close ties with Zimbabwe "a cornerstone" of China's foreign policy.[Photo by Lan Hongguang/Xinhua]
Infrastructure and finance deals signed
When Xi Jinping's entourage drove from the airport to downtown Harare, the capital of Zimbabwe, tens of thousands of Zimbabweans and overseas Chinese clogged both sides of the highway, greeting the Chinese president with banners and flags.
Beside the cheering crowds, giant billboards said, "We share the same dream," indicating a deeper friendship and mutual understanding between the two countries.
Amid such hospitality, Xi arrived on Tuesday for his first state visit to Zimbabwe, before going next to Johannesburg, South Africa, for an annual forum boosting China's cooperation with Africa.
Xi, the first Chinese president to set foot in Zimbabwe since 1996, and his wife, Peng Liyuan, were greeted by 91-year-old Zimbabwean President Robert Mugabe.
Later in the day, the two leaders were to meet and witness the signing of a number of agreements on infrastructure, finance, culture and wildlife conservation.
With these new projects, the Chinese leader is set to erase any doubts about whether a slowing Chinese economy would continue to provide major support for the continent's development and about how China's relations with Africa will evolve in the future.
In a bylined article published in the local newspaper the Herald, Xi touted the close ties with Zimbabwe as being "a cornerstone" of China's foreign policy, despite constant and complex changes in the international landscape.
He said both countries share the same development goal. While China's goal is to realize the dream of great national rejuvenation, Zimbabwe's is to achieve economic independence and self-reliant, sustainable development, Xi said in the article.
Before the visit, Mugabe said he highly expected this visit to bring more cooperation projects and exchange programs, which he said would help with the economic independence of Zimbabwe, which has long suffered from inflation and sanctions.
As Zimbabwe's leading investor, China invested a total of $600 million in 2013, while last year bilateral trade volume hit $1.24 billion.
Patrick Chinamasa, Zimbabwe's minister of finance and economic development, said infrastructure remains the fundamental challenge to unleashing the country's potential. China has a significant role to play in sectors such as power supply and transportation, he said.
Chinamasa said some manufacturing enterprises have to cut output due to a lack of electricity and water supply.
In its efforts for economic revival, Zimbabwe is seeking more value-added industries, such as the processing of raw materials in the country, he said.
"For instance, we have coal, and if Chinese investors can bring in the equipment, then we may generate power to not only Zimbabwe, but other countries in this region," Chinamasa added.
"Agricultural products like soybeans and tobacco are also important areas where Chinese investors can establish value-added facilities," he said.
Phyllis Johnson, interim director of the Institute for China-Africa Studies in Southern Africa, said the agreements to be signed on financial support and joint cooperation will take bilateral relations to a much higher level.
Xi's visit will raise the profile of Zimbabwe as a safe destination for Chinese investment and tourists, she said.
Zhao Huanxin in Harare contributed to this story.