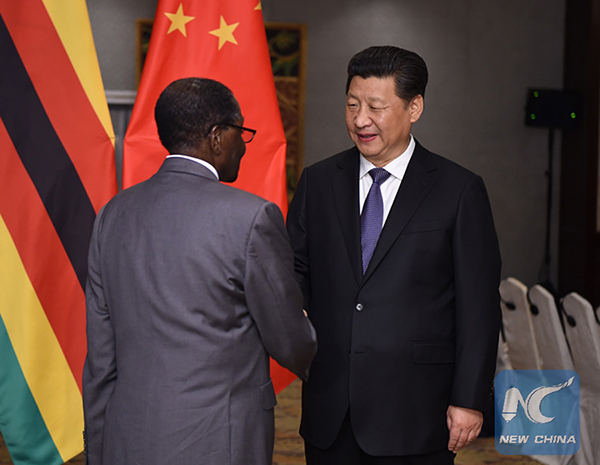 File photo of Chinese President Xi Jinping (R) meeting with Zimbabwean President Robert Mugabe in Jakarta, capital of Indonesia, April 23, 2015. [Photo/Xinhua]
China-Zimbabwe friendship has also taken root and sprouted in the heart of our two peoples. I know there is a Chinese mothers' group in Zimbabwe called "Love of Africa", and a "Father Cheng" from China who is so close with the local community that even his car plate number is remembered by the kids there. Over the years, they have brought care and warmth to local orphans. Such concrete actions are manifestations of China-Zimbabwe friendship of the current generation and sow the seeds of friendship for future generations.
During his visit to China last year, President Mugabe gave the Chinese people a pair of lion cubs on behalf of the Zimbabwean people. They are now living in the Shanghai Wild Animal Park. They have been named "Jin Jin" and "Fei Fei", which sound the same as the first Chinese characters for Zimbabwe and Africa and symbolise China's friendship with Zimbabwe and Africa. As messengers of China-Zimbabwe friendship, the two cubs are popular with the Chinese people, especially kids.
The extraordinary development of China-Zimbabwe relations shows that our friendship is rooted in the cultural tradition of our two countries that values sincerity and friendship, in the basic principles of independence and mutual respect that we both adhere to in conducting foreign relations, and in the common mission of our two countries to grow the economy and improve people's livelihood.
Despite the constant profound and complex changes in the international landscape, it remains a cornerstone of China's foreign policy to consolidate China's relations with Zimbabwe and other African nations. This will never change. In conducting China's relations with Africa, we adhere to the principles of sincerity, practical results, affinity and good faith and uphold the values of friendship, justice and shared interests. We will work with Zimbabwe and all other friendly African nations to pave a broader and more solid road of mutual benefit and common development for China and Africa.
The Chinese people are striving to achieve our "two centenary goals" and realise the Chinese dream of great national renewal, while Zimbabwe is making vigorous efforts to promote the Zimbabwe Agenda for Sustainable Socio-Economic Transformation and achieve economic independence and self-reliant sustainable development.