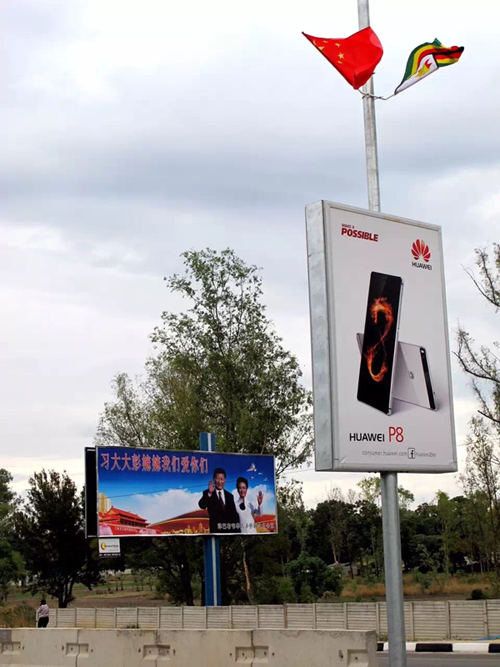 Preparations of the coming visit of Chinese President Xi Jinping is in full swing in Harare, capital of Zimbabwe, Dec 1, 2015. [Photo by Larry Lee/chinadaily.com.cn]
HARARE - Over the decades since Zimbabwe's independence in 1980, bilateral relations with China have been stable and friendly, observers say, and the upcoming state visit by Chinese President Xi Jinping is undoubtedly going to elevate the tie to a new high.
Nhamo Mhiripiri, a professor at the Midlands State University, said China and Zimbabwe have longstanding ties that cannot easily fall away.
"The new millennium has seen economic relations between China and Zimbabwe growing," he said, "It's impossible for the Chinese president at any given time to visit all African countries at the same time. He has to make strategic visits that are manageable."
Charity Manyeruke, a professor of political science and international relations at the University of Zimbabwe, said Xi's visit was testimony of the unflinching ties between the two countries.
Zimbabwean President Robert Mugabe paid a state visit to China last year and his Chinese counterpart was set to reciprocate by visiting Zimbabwe and that was very important, Manyeruke said.
Speaking to reporters prior to Xi's visit, Mugabe has said he is elated to host "the greatest friend we have in the international community."
"We await the visit with very great interest, and we shall be discussing some of the projects and programs of cooperation," he said.
During Mugabe's China visit, the two countries signed a number of deals that will see Beijing provide financial and technical assistance for Zimbabwe's infrastructure development in the areas of telecommunications, energy and agriculture.
"For the president of China to choose to come to Zimbabwe, it's a mark, a big statement that Zimbabwe will benefit from economic and trading relations," Manyeruke said.
She said the visit was also significant not only for Zimbabwe but for Africa as a whole since Mugabe is the chairman of the African Union, a continental bloc of 53 African nations.
In 2002, Zimbabwe was the first among African countries to officially adopt a "Look East" policy, aiming to shift the economic cooperation paradigm from a partnership with traditional Western donors to emerging Asian powers including China.