New York City Marathon held in tight security in wake of terrorist attack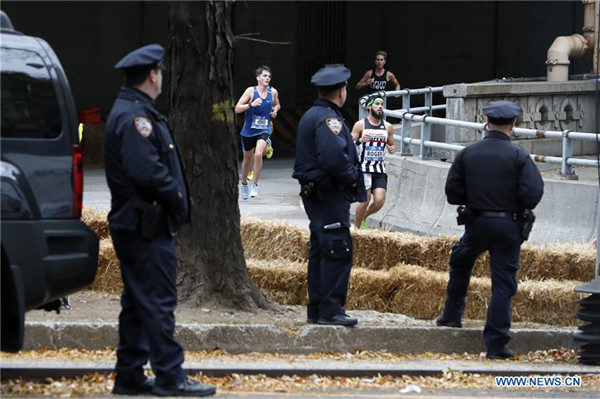 Policemen stand guard as runners participate in the New York City Marathon in Manhattan of New York, the United States, on Nov 5, 2017. [Photo/Xinhua]
NEW YORK - The New York City Marathon was held Sunday with heavy police presence as the massive event through all the five boroughs of the city was just days after a terrorist attack in Manhattan that killed eight people.
Neither the fear for another attack or the humidity brought by a light breeze could deter people -- New Yorkers and visitors -- from coming out and lining up the streets to cheer the marathoners on -- with cow bells and placards.
"It's really beautiful because this is honestly the worst nightmare for a terrorist -- that people from all nations and faiths get together, run, people of all backgrounds cheering them on, and it goes on schedule despite an attack in the same week. That is a message we'll send to the whole world," New York City Mayor Bill de Blasio told WABC-TV before the start of the marathon with about 50,000 runners.
"This race is one of the best examples to all the rest of the world about what is great about New York City and America."
Spectators say security is notably tighter than last year. Major intersections were blocked by police cars and runners are escorted by police vehicles. Police officers equipped with heavy weapons could be seen along the route. The New York Police Department also deployed extra-heavy "block trucks" to prevent vehicle attacks on crowds.
Despite heavy security and the fact the Tuesday's truck attack was the worst in the city since the 9/11 terrorist attacks, and the terrorist attack on the 2013 Boston Marathon, people came out en masse in defiance.
"The terrorists, for as much hatred as they have ... we have a lot more to love in this world that will always outpower that. They can scare us with their acts of hatred. But acts of kindness or triumph will always come out stronger," said Cece Marizu, a New Yorker in her 20s.
For Abbigail Rioux, a Canadian who has been living in New York for 15 years, Tuesday's truck attack was more personal because she was a regular bicyclist on the very path that was plowed by the rented pickup truck. "I was not biking that day," she told Xinhua.
Despite the narrow escape, Rioux remained defiant.
She admitted that the threat of terrorism crosses in her mind all the time before she decides to go to a public place. But she argued that if people choose to stay home because of the fear, they are stuck as prisoners to that and will let terrorists' fear tactics win.
"We can't live in fear, we can't show them (terrorists) we live in fear. Otherwise their tactics worked on us."
She said Sunday's marathon was a good example. "I made a choice knowing this is a huge event with a lot of people," she explained.
In Sunday's race, American runner Shalane Flanagan won the women's title with 2 hours 26 minutes and 53 seconds. The first male marathoner that hit the finish line was Geoffrey Kamworor of Kenya with 2 hours 10 minutes and 53 seconds.