Alibaba founder inspires African entrepreneurs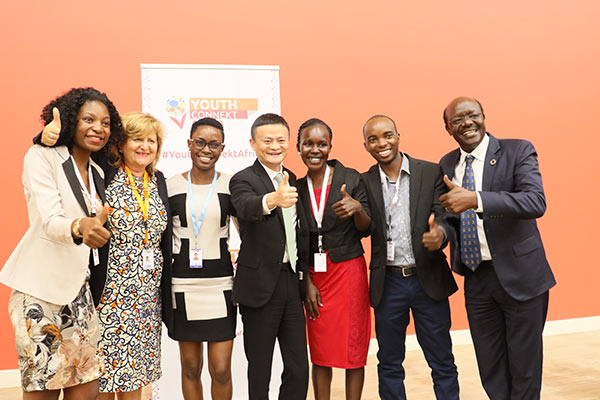 Jack Ma (4th from left), founder and executive chairman of Alibaba Group, is photographed with Mukhisa Kituyi (right), secretary general of UNCTAD, and some of the attendees of the Youth Connekt Summit in Kigali, Rwanda, on July 21. Liu Hongjie/China Daily.
Jack Ma, founder and executive chairman of Alibaba Group, challenged young African entrepreneurs, congregated at the youth Connect Africa summit on July 21, to think big and about the future. The event was held in Kigali, Rwanda.
"Instead of sitting down and whining about the many problems your country is facing, you should think out of the box about what you can do to provide a solution," he said.
Ma challenged young people to start businesses with a long-term vision if they dream of building companies which will grow to become multi-billionaire enterprises.
He said one of his driving forces to establish an e-commerce company was from his desire to solve the e-commerce poor infrastructure China was grappling with. While nobody believed in his idea at its nascent age, including his close family members, Ma did not give up.
Today, the $42 billion dollar worth man now enjoys the fruits of his patience, passion and hard work, and is an inspiration to many upcoming techpreneurs.
"When the infrastructure is poor, it's an indication of many unexploited opportunities, but when everything is in order, you have no chance," Ma said.
"While I spent 18 years to building Alibaba, you can spend five years building the African version of Alibaba."
He added the simplest key to have in succeeding at entrepreneurship was a willingness to learn through failures and mistakes.
"No matter how knowledgeable you are you will never have enough," Ma said.
"The most important knowledge is knowing how to face failures.
"Ten years ago, I was not like this. I have learned that 100 mistakes equals to one success.
"Through my experience I would like to encourage the young people to spend more time studying the failure stories instead of successful ones. If you learn why people failed and how they solved a problem, that is the most important lesson.
"If Jack Ma and his team have been successful, 80 percent of young people can be successful too."
Ma added opportunities always lie where people are complaining.
"If you can solve the problem, you can be successful. Don't work towards being number one because you will be disappointed; look at being the first one," he said.
"Be the first one to take the challenge; by changing yourself and solving a problem for others, you will have a chance."
At the event, Ma told entrepreneurs to spend more time with customers and employees, and less time with shareholders.
"Let the customer be number one, the employee number two and the shareholders number three," he said.
"Spend more time on your customers – listen to them and make them happy, and they will pay you. The second one is the employee because they are innovators, and if the employee and customer are happy, you will be happy too."
Isaro L ise Katangulia, founder, CEO and senior architect at Creative Work Limited, a Rwanda based company, said Ma's insights opened her eyes and mind a great deal.
The 23-years-old said she particularly learned success was not something which happens overnight, and added she should focus on long-term investments.
"I was encouraged by Ma's advice to go out and face any challenge courageously," Katangulia said.
"After listening to Ma, I got a different perspective of how I thought about success, that it means not giving up and trusting in oneself."
Isaac Habimana, another event attendee, said he was equally as motivated by listening to Ma.
"I was so much motivated by Ma, and I'm ready to start and grow a future business empire," he said.
edithmutethya@chinadaily.com.cn