US top court rejects Trump bid to include grandparents in travel ban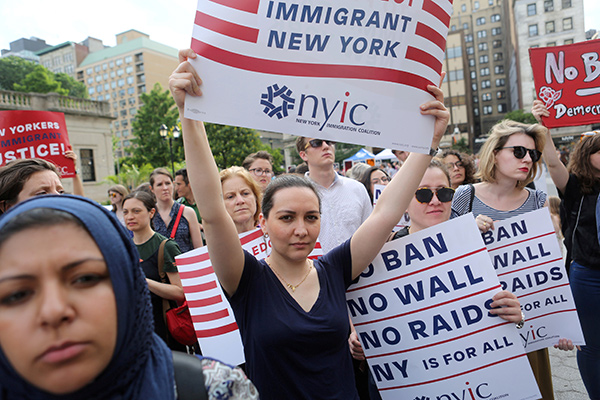 Protesters hold signs against US President Donald Trump's limited travel ban, approved by the US Supreme Court, in New York City, US on June 29, 2017. [Photo/Agencies]
Naureen Shah, senior director of campaigns at Amnesty International USA, said in a statement that the decision on refugees "jeopardizes the safety of thousands of people across the world including vulnerable families fleeing war and violence."
The Supreme Court also announced on Wednesday that it has scheduled oral arguments on broad questions on the lawfulness of the ban for Oct 10.
The Trump administration last Friday asked the high court to overturn a decision on Thursday by US District Judge Derrick Watson in Hawaii, which limited the scope of the administration's temporary ban on travelers and the 120-day ban on refugees.
The latest round in the fight over Trump's executive order began after the Supreme Court intervened last month to partially revive the two bans. Both had been blocked by lower courts.
The Supreme Court said then that the bans could take effect, but that people with a "bona fide relationship" to a US person or entity could not be barred.
The administration had narrowly interpreted that language, saying the ban would apply to grandparents and other family members. Hawaii asked Judge Watson to expand the definition of those who could be admitted and he ruled in favor of the state.
Reuters