Macron threatens to ram through parliament reform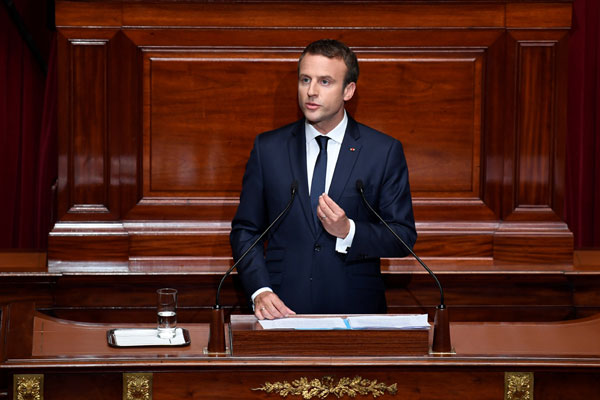 French President Emmanuel Macron delivers a speech during a special congress gathering both houses of parliament (National Assembly and Senate) at the Versailles Palace, near Paris, France, July 3, 2017. [Photo/Agencies]
VERSAILLES/PARIS - France's new president, Emmanuel Macron, told parliament in a ceremonial address on Monday that he would seek direct approval from voters in a referendum if parliament failed to sign off his intended institutional reforms quickly enough.
Elected only two months ago by a hefty majority, Macron told the lawmakers of both houses, summoned especially to the Palace of Versailles, that he wanted to cut the number of lawmakers by a third, curb the executive's role in naming magistrates, and introduce a "dose" of proportional representation.
Macron's upstart Republic on the Move (LREM) party has secured a comfortable majority in the National Assembly - but France's youngest leader since Napoleon made clear his impatience to complete the reshaping of the political landscape that he has begun.
"The French people are not driven by patient curiosity, but by an uncompromising demand. It is a profound transformation that they expect," Macron told the specially convened joint session of parliament.
"I want all these deep reforms that our institutions seriously need to be done within a year. These reforms will go to parliament but, if necessary, I will put them to voters in a referendum."
Macron also pressed his case for reform of Europe.