Mango farmers find market in Kenya's Chinese community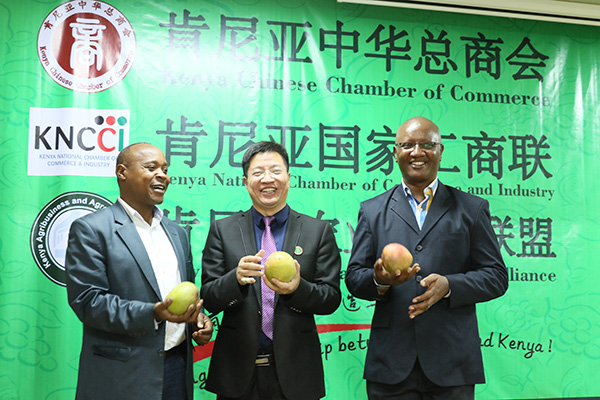 East African Legislative Member of Parliament Peter Mathuki (left), William Zhuo, (center) chairman of the Kenya China Chamber of Commerce and acting chief executive ofthe Kenya National Chamber of Commerce and Industry and George Kiondo (right) pose with mangoes during a promotional event for the Chinese community in Kenya.[Photo by Liu Hongjie/chinadaily.com.cn]
It was good news to more than 500 Kenyan farmers who sold 24,000 mangoes in a record two hours directly to the Chinese community in Nairobi. In a show of solidarity on Saturday, the buyers came in droves to purchase the mangoes, which had been packed in boxes and transported from Muthetheni, Machakos County, about two hours from downtown Nairobi.
The fete organized by the Kenya National Chamber of Commerce and Industry (KNCCI) and Kenya Chinese Chamber of Commerce (KCCC), saw the farmers sell a box of apple mangoes for $5, which is more than four times what they conventionally earn from middlemen.
"The move targets to uplift the rural economy while triggering the start of a cottage industry that is missing in Kenya," said William Zhuo, KCCC chairman. He said women and youths are direct beneficiaries of this move since it has given them direct access to consumers.
Also present during the event was KCCI chairman Kipruto Kittony and Han Jun, chairman of the Chinese Chamber of Commerce in East Africa and CEO of the Kenya Agribusiness and Agroindustry Alliance.
In his speech, Kittony said the African landscape has been transformed with the support of the Chinese and it was therefore sensible for farmers to not only be able to easily reach the market but have direct access to consumers.
"We are not only witnessing the benefits of people-to-people interactions but also the start of a journey to bridge the gap between our balance of trade," he said. China exports to Kenya reached $3.2 billion last year.
The Chinese business group noted that there were plans to build the local farmers' capacity to increase productivity. "We want to import Chinese agricultural experience here to boost this sub-sector. We also hope that we would start exporting the mangoes to China," Zhuo announced.
Kenya's mango season starts officially in November-December and runs all the way to March-April each year. According to statistics from the International Trade Centre (ITC), Kenya has seen an increase of over 400 percent in mango exports over the last five years. Key export markets are countries in the Middle East, such as the United Arab Emirates, which takes about 56 percent of the total, followed by Saudi Arabia, Bahrain and Qatar.
Contact the writer at Lucymorangi@chinadaily.com.cn