Mnuchin confirmed, not expected to name China currency manipulator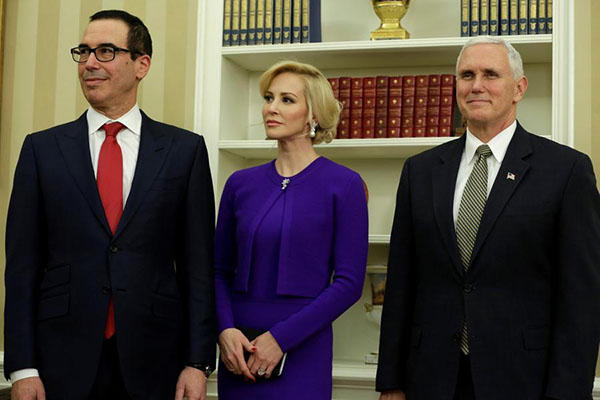 Steve Mnuchin (L) stands with his fiancee Louise Linton and U.S. Vice President Mike Pence before swearing in as Treasury Secretary in the Oval Office of the White House in Washington February 13, 2017. [Photo/Agencies]
Steven Mnuchin, US President Donald Trump's pick for treasury secretary, was confirmed by the Senate on Monday evening after a lengthy, partisan process.
The Senate voted 53-47 to make the 54-year-old Wall Street financier the 77th US treasury secretary.
Mnuchin was immediately sworn in at the White House by Vice-President Mike Pence, in front of Trump and Louise Linton, Mnuchin's domestic partner.
Trump praised Mnuchin and said "our nation's financial system is truly in great hands".
During a seven-hour Senate debate that started at noon, Democratic lawmakers, such as Minority Leader Charles Schumer, accused Mnuchin of being anti-working class. Trump had pledged to help American workers since launching his presidential campaign in mid-2015.
The Democrats described the former Goldman Sachs executive as incapable of being tough on Wall Street, another Trump campaign promise. They accused him of profiteering from mortgage foreclosures when he was heading the One West Bank during the 2007-2008 financial crisis.
Mnuchin is the third treasury secretary from Goldman Sachs since 1995. The other two were Henry Paulson under President George W. Bush and Robert Rubin under President Bill Clinton.
Democrats boycotted his Senate Finance Committee confirmation vote on Jan 31, but the panel approved Mnuchin the following day after Republicans changed rules.
Bernie Sanders, a senator from Vermont, tweeted shortly before the Monday vote that "Trump's pick of Steve Mnuchin to run the Treasury shows he wants to cater to the same Wall Street executives that hurt working families".
Mnuchin will face huge tasks in tax and financial regulation reform. And his remarks on Trump's campaign rhetoric of naming China a currency manipulator have been closely watched.
In a Jan 19 Senate hearing, Mnuchin said he was willing to label China a currency manipulator if warranted. The message has been widely interpreted to mean there would be no immediate action.
Trump also has softened his tone in the past months. In an interview with The Wall Street Journal last month, Trump said that he wouldn't name China a manipulator on his first day in office as previously promised. "I would talk to them first," he was quoted as saying. "Certainly they are manipulators. But I'm not looking to do that."
The softened tone has helped ease concerns that the Trump administration might start a trade war with China, triggered either by labeling China a currency manipulator or by imposing a 45 percent tariffs on Chinese exports, as Trump once threatened.
As described by the White House, Trump had a "lengthy" and "extremely cordial" phone call with President Xi Jinping last Thursday night. It came on the eve of a visit by Japanese Prime Minister Shinzo Abe.
Most US economists no longer believe that China is manipulating its currency to gain a trade advantage. Instead, they point out that the Chinese government has intervened to prop up its currency, renminbi (RMB), also known as yuan, thereby helping the US economy become more competitive.
These include Fred Bergsten of the Peterson Institute for International Economics, a main critic of China's currency policy not that long ago.
The US Treasury headed by Jack Lew under the Obama administration also said in its report last October that China met only one of three criteria to be labeled a manipulator. The report also credited China's recent efforts to prop up its currency as helping prevent a rapid depreciation that would hurt the world economy.
The next US Treasury report to assess the foreign exchange practices of major trading partners is due on April 15.
If the US Treasury names China a currency manipulator, it will be required by US law to start bilateral negotiations to resolve the issue. It could result in punitive tariffs on Chinese goods.
The International Monetary Fund also may be asked to provide its expert evaluation if the Trump administration does not choose a path of unilateralism.
At the January hearing, Mnuchin said currency manipulation is a serious infraction of free trade principles and needs to be effectively addressed.
"As treasury secretary, I will ensure that we defend American jobs by combating currency devaluation utilizing the reporting and monitoring functions of the Treasury and legislative processes established by Congress," he said.
He said he would work through existing multilateral institutions such as the IMF, G7 and G20 to address currency manipulation as an unfair trade practice and also work with major trade partners bilaterally.
Mnuchin is estimated to have a net worth of as much as $500 million. He was the national finance chairman of Trump's presidential campaign.