Turkish student pursues martial arts dream in China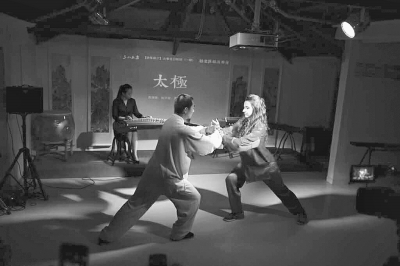 Meiyu (R) performs with a tai chi instructor of Shanghai University of Sport in Shanghai, May 2016. [Photo provided by Meiyu]
"When people ask me about the major I'm pursuing in China, I always tell them they would never be able to guess," said Meiyu, a Turkish student in Central China's Wuhan, Hubei province.
She has been learning martial arts for two years under the Chinese government scholarship, said Meiyu to Changjiang Daily reporter Cai Xinxing.
Every Chinese character bears a story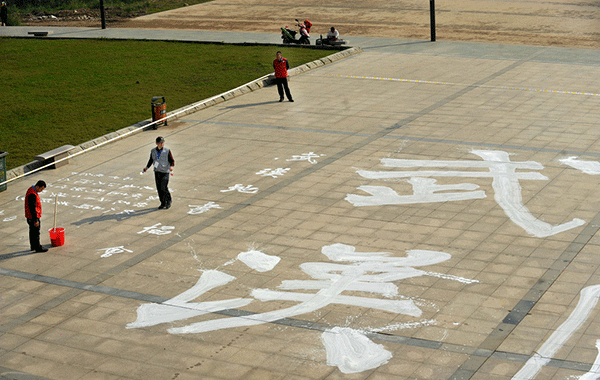 Calligraphers write Chinese characters "Wuhan" in Hankou, Wuhan, on November 13, 2016. [Photo/IC]
Many people get lost when they visit a place for the first time. But Meiyu found the way to the university without any trouble two years ago even though it was her first time in China. She was able to do this thanks to her proficiency in Chinese language. She learned Chinese for four years in Ankara University in Turkey, and got her Chinese name Meiyu there, which means gem, echoing her Turkish name.
Meiyu chose to learn Chinese in college after graduating from high school. "Too many people learn English or Spanish, but I did not want to be like them," she said.
A friend who was learning Chinese told Meiyu that the Chinese characters are very interesting, with a story behind every single character. For example, the character Hao (好), which means good, is composed by Nv (女), which means female, and Zi (子), which means child. "A female (a mother) staying with her kids is good," explained the friend.
Meiyu found the explanation very interesting and began reading about China on the internet. Although Meiyu's family and teachers found her decision hard to understand, she chose Chinese language major at Ankara University, one of the only two universities with the major in Turkey back then.
Meiyu became passionate about Chinese language after enrolling at the university. "I became more interested after my professor told me about Chinese history. Many people did not understand my decision when I was a freshman, but they all said I made a right choice when I graduated from college. Many Chinese are visiting Turkey now and the trade industry also requires Chinese speaking experts. Speaking Chinese means more job opportunities," said Meiyu.
She even benefited from Chinese when she was travelling alone in Venice, Italy. "I could not find the way to the train station one night, and the pedestrians did understand English or Spanish. Finally, I found help from Chinese staff members of a pizza outlet," Meiyu said smiling.