S. Africa resolves to keep President Zuma in power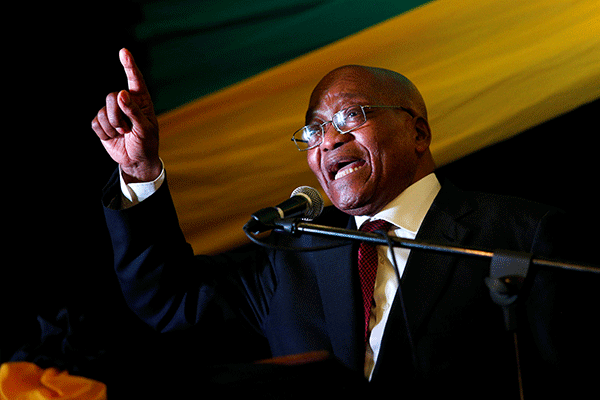 South African President Jacob Zuma sings at the City Hall in Pietermaritzburg, South Africa, November 18, 2016. [Photo/Agencies]
JOHANNESBURG - The National Executive Committee (NEC) of South Africa' s ruling party debated calls for President Jacob Zuma to resign and resolved to keep him, party secretary general Gwede Mantashe told reporters here on Tuesday.
African National Congress (ANC), the ruling party, held the NEC meeting on Nov 26-28. According to Mantashe, the party engaged in a robust debate. Zuma, president of both the party and country, did not take part in the debate and only listened.
"We affirm our support in Zuma, president of the party and the republic. Following robust, honest, candid and at times difficult discussions, the NEC did not support the call for the president to step down."
Some ANC veterans, including former President Thabo Mbeki, as well as the opposition political parties have called on Zuma to step down.
Mantashe said that during the NEC debate, some argued for his resignation while others were against it.
He said some requested a vote on the call for the president to resign and that was turned down. Mantashe said they used consensus in the party to oppose voting in the NEC. He also said those who had supported the call for Zuma to step down will not be victimized or treated differently.
Mantashe said Zuma is unfairly criticized at times. The ANC lost 8 percent in the last local government elections where they lost strategic cities including the administrative capital Tshwane.
The NEC resolved to work for the unity in the party, and decided to have a National Policy and Consultative Conference from June 30 to July 5, 2017.
They also agreed to hold a national conference in December 2017 where they will elect the new party leadership.
"We would have elected new leadership of the ANC. There will be a new president who will be the face of the party in the 2019 campaign," Mantashe said.
The ANC is currently visiting various parts of the country to engage with local communities to regain the lost ground.