China's astronauts prepare for a new era of exploration
The nation is planning its most ambitious project yet: a manned facility that will act as a base for experiments and further probes of space
In most suburbs of Beijing, the word "sky-rocket" is usually used to describe soaring property prices resulting from China's rapid urbanization and the thriving real estate market.
However, for 16 people in an inconspicuous compound on the northwestern outskirts of the city, the word is almost always used literally.
Astronauts repeat their oaths at the Astronaut Center of China in Beijing on Jan 4. Feng Yongbin / China Daily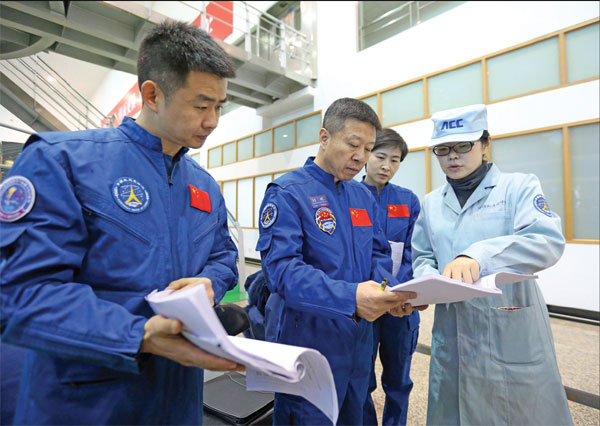 Chen Dong, Liu Wang and Liu Yang talk with a team member during flight training at the center.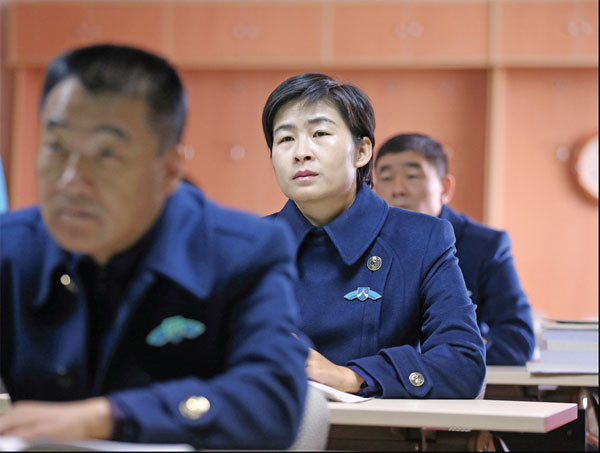 Liu Yang, the first Chinese woman in space, listens during a lecture. Photos by Feng Yongbin / China Daily

They are the only people out of a population of 1.3 billion who are active, qualified astronauts. At present, they are training for one of the most spectacular endeavors of the coming decade: building and operating China's first space station. Construction will begin in 2020 and the facility, which will be designed to last at least 10 years, will come into service two years later. Each group of astronauts will occupy it for three to six months at a time.
"Missions to the space station will last much longer than previous assignments. The station's systems will be more advanced and sophisticated than those on the Shenzhou series of spacecraft and the Tiangong space laboratories, so the astronauts will require far greater knowledge, ability and skill," said Fei Junlong, who was sent into space aboard Shenzhou VI in 2005.
"We astronauts must continue to improve our abilities and learn how to operate and maintain the equipment that will be used on the space station," he told reporters during an open house held at the Astronaut Center of China in northwestern Beijing to mark the 20th anniversary of the founding of the People's Liberation Army Astronaut Group.
Nie Haisheng, Fei's partner on the Shenzhou VI mission, explained that China's astronauts now have a wider range of training methods designed to help them become familiar with the advanced equipment that will be used on the space station.
According to the plan of action, a Long March 5B heavy-lift rocket, which is currently under development, will put the station's core module into orbit in 2020. That will be followed by at least four manned missions carrying astronauts into space to assemble the station. In common with previous space missions, the government has not released any figures related to the cost of the project.
If the United States-led International Space Station is retired as planned in 2024, the new, as yet unnamed, Chinese facility will become the only permanent space station.
Although China has trained 21 astronauts over two generations, only 11 of them have taken part in the nation's six manned space missions. The selection of third group of astronaut candidates is underway and is expected to narrow the group down to 17 to 18 after more testing.
Candidates for the space station mission will be chosen according to their performance in training and through expert assessment, so no one yet knows who will be the first to board the station.
"We are lucky to be in this great new era. We must race against time to prepare for the upcoming space station mission," said Liu Boming, who took part in the Shenzhou VII mission in 2008.
In 1992, the Central Committee of the Communist Party of China approved a road map for the country's manned space program drawn up by a number of eminent scientists.
Three years later, the Central Military Commission decided that the astronauts should be chosen from veteran pilots in the PLA Air Force who had at least 600 flight hours in fighter jets or attack aircraft.
More than 1,500 pilots applied and, after several rounds of stringent tests, the number was whittled down to 14. In January 1998, they became the founding members of the PLA Astronaut Group, and in 2010 they were joined by seven new astronauts who were also experienced Air Force pilots.
On Oct 15, 2003, China carried out its first manned space mission, sending Yang Liwei on a 21-hour series of Earth orbits in Shenzhou V.
During his 600,000-kilometer expedition, 343 km above the planet, the then-38-year-old Yang simultaneously displayed the Chinese and UN flags to hundreds of millions of Chinese who were witnessing his feat on television, and said in both Chinese and English, "Make use of outer space peacefully and for the benefit of all humankind."
Now a major general and bearing the honorary title of "Space Hero", Yang is head of the China Manned Space Agency.
In the 14 years since Yang's momentous journey, China has evolved from a second-tier player in the global space race into a great power.
In 2003, the country conducted just seven space missions, while Russia undertook 21 and the United States made 23; by comparison, this year, China will conduct at least 40 unmanned missions in an ambitious schedule that is likely to outnumber those of both the US and Russia.
Moreover, since 2003, China's six manned spaceflights have totaled 68 days and orbited Earth 1,089 times, while the nation's astronauts have traveled more than 46 million km in space and conducted more than 100 experiments.
Chinese astronauts have also undertaken spacewalks, conducted several extended missions inside the Tiangong I and II space labs, and delivered a 40-minute lecture from space that was watched by more than 60 million students in about 80,000 schools.
Those accomplishments have become a source of pride and growing confidence in the nation, as well as sparking patriotic sentiments in Chinese communities around the world.
Yang recalled that during a visit to New York in 2004, an 80-something Chinese-American held his hands and tearfully told him that, for overseas Chinese, the nation's achievements in space reflected the fact that "our motherland has risen", which gave them renewed courage and strength.
In 2013, when Liu Yang, the first Chinese woman in space, attended a seminar at a middle school in Beijing, a student told her that he had been inspired by her story and wanted to become an astronaut.
He also gave Liu a photo that had been taken by his grandmother, a retired professor at the prestigious Beihang University in Beijing, at a ceremony held at the university several months before. On the back of the photo, the elderly woman had written, "We salute those who contribute to our endeavors in space."
According to statistics provided by the manned space agency, the ratings for TV and radio programs about astronauts broadcast during manned missions are always extremely high, while books about China's manned space expeditions remain at the top of the best-seller lists for many years.
Away from the glamour, though, the nation's astronauts endure countless rounds of training, tests and drills, shedding sweat and owing an enormous debt to their families.
"Once a pilot is admitted to the astronaut team, they must immerse themselves in more than 30 subjects, including physics, astronautics and astronomy. Normally, university courses in each of these subjects last four years, but our astronauts have just one year to complete their studies, and they must pass exams about every topic," says Li Xinke, Party chief at the Astronaut Center of China.
"During training to simulate weightlessness, astronauts wear suits that weigh 160 kilograms and stay underwater for about four hours. They lose an average 2 kg during each training session, and after a session they are so exhausted that they are unable to hold chopsticks," he added.
During centrifuge training, the astronauts endure gravitational acceleration as much as eight times their own weight so they will be able to resist the G-forces during liftoff that severely restrict the ability to breathe.
"In the past 20 years, none of our astronauts has pressed the emergency button to halt the program. They all persisted," Li said.
The astronauts have also overcome hardships and difficulties during missions.
Yang Liwei recalled being in Shenzhou V atop a Long March 2F rocket, ascending toward space, when a low-frequency oscillation made his internal organs vibrate violently, inflicting almost unbearable pain. He said he gritted his teeth and told himself to endure the pain because he was about to realize the nation's enduring dream of flying in space.
During the Shenzhou VII mission, Zhai Zhigang and Liu Boming spent about 20 hours assembling their spacewalk suits but then discovered they were unable to open the spaceship's exit hatch. Eventually, they decided to use a tool to force the hatch open, despite the obvious safety risk. At the same time, the spacecraft's computers sounded a warning that there was a fire in the orbital cabin.
"We had no time for discussion. We knew what was in each other's mind at that very moment: We had to accomplish our mission and wave the Chinese flag in space, even though we realized that there would probably be no return trip for us," Zhai said.
They discovered that their pessimism had been unfounded; the spacecraft was not damaged when they forced the hatch and the fire alarm was a false alert.
Looking back at these and other experiences, the astronauts said their struggles, sacrifices and persistence had all been worthwhile.
Liu Wang, who took part in the 2012 Shenzhou IX/Tiangong I mission, said it was awe-inspiring and unforgettable to observe the Earth and the universe from space.
"I saw the lights of cities on Earth and lightning ripping through the night sky. From our orbit I saw the darkness and emptiness of space and I wondered where the boundary is between the sky and the stars," he said. "I will never forget those scenes."
Wang Yaping, the female astronaut who delivered a science lecture to students from the Tiangong I space lab, said she felt humbled by the number of boys and girls who wrote to her on her return.
"They said my colleagues and I had inspired them to explore the universe and they would try their best to become astronauts," she said. "I would never have imagined that my teaching could spark so many dreams and aspirations"
In July, President Xi Jinping, who is also chairman of the Central Military Commission, conferred a first-class military decoration on the PLA Astronaut Group, and also awarded an August 1 Medal, the highest honor given to individual members of the Chinese military, to Jing Haipeng, who has taken part in three missions, including the Shenzhou XI/Tiangong II expedition in late 2016, which lasted 33 days.
Jing was both pleased and modest when he received the medal. "Of course, the honor and glory belong not only to us, but also to tens of thousands of scientists, engineers and workers from more than 3,000 institutes, universities and enterprises who have played a role in the nation's manned space programs and contributed to sending us into space," he said.
zhaolei@chinadaily.com.cn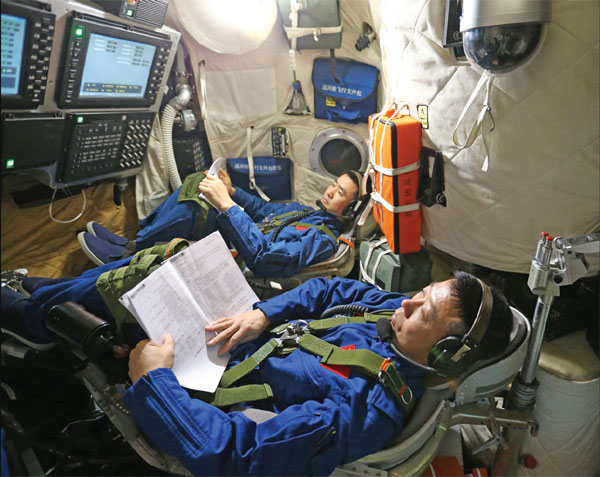 Chen Dong and Liu Wang train for a mission. Feng Yongbin / China Daily
(China Daily Africa Weekly 04/27/2018 page16)