Opportunities abound for deeper relations
As China and South Africa celebrate friendship, officials hail possibility for further engagement
The expansion and deepening of political, business and people-to-people relations between South Africa and China has been warmly welcomed and means enormous opportunities for growth and development for both sides, says South Africa's ambassador to China.
"Our relations have continued to grow from strength to strength, blossoming at all levels, from trade and investment to education, science and research, arts and culture, media and journalism and close political ties,"said Ambassador Dolana Msimang at a celebration in Beijing on Jan 18 to mark the 20th anniversary of diplomatic relations between South Africa and China.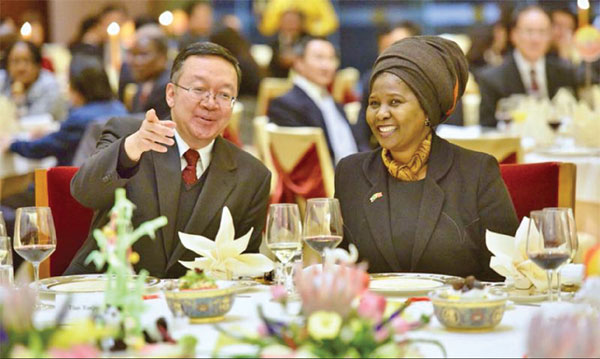 Tian Xuejun, deputy Minister of Education and former Chinese ambassador to South Africa, and Dolana Msimang, South African ambassador to China, enjoy a performance at the celebration of 20th anniversary of diplomatic relations between the two countries. Provided to China Daily
The celebration, hosted by the Embassy of the Republic of South Africa in China and the Chinese People's Association for Friendship with Foreign Countries, was attended by dignitaries, diplomats, government officials and business leaders.
"Our solid ties not only provide a platform for continuing diplomatic engagement with one of our most important trade partners, but are also the key to broader engagement between our two countries, strengthening relations on every front," Msimang said.
China will host the Forum on China-Africa Cooperation Summit this year. In 2015, the summit was held in Johannesburg and co-chaired by President Xi Jinping and South African President Jacob Zuma.
Xi, in his congratulatory message to Zuma on the 20th anniversary of the establishment of diplomatic relations between the two countries on Jan 1, said China-South Africa relations have seen comprehensive and in-depth development through cooperation. The relationship between China and South Africa was upgraded to a comprehensive strategic partnership in 2010.
In his congratulatory message to Xi, Zuma expressed his hope to further reinforce the ties.
South Africa has the largest Chinese community in Africa, since immigration in the 1870s gold and diamond rushes, with significant settlement since the end of apartheid in 1994, when the Chinese population rose from an estimated 300,000 to 400,000, according to the South African embassy in Beijing.
"I'm happy to say the Chinese South African community is actively contributing to the local economy," says Tshepiso Malele, acting head of China for Brand South Africa, the government agency that manages South Africa's nation-brand reputation, adding that China's support was integral to South Africa joining the BRICS bloc of major emerging economies.
China has become one of South Africa's core tourism markets, with visitor numbers growing by 38 percent in 2016 to nearly 117,144. Chinese visitor spending is projected to reach $100 million this year, making the country a major contributor to the tourism industry, which supports one in 10 jobs in South Africa, according to the embassy.
"This unique, warm relationship is underlined by the fact that China is now our largest trade partner, while South Africa is one of China's major import sources and fourth-largest investment destination," Malele says.
yandongjie@chinadaily.com.cn
(China Daily Africa Weekly 01/26/2018 page3)