10th summit to put BRICS priorities in the spotlight
Host nation South Africa sees opportunity to reflect on progress and determine how members can move forward
All eyes will be on South Africa next year, when the country will be the BRICS chair and host of the bloc's 10th summit.
South Africa is expected to craft the agenda for the summit in consultation with the other BRICS members - Brazil, Russia, India and China. South Africa has said its foreign policy is anchored in pan-Africanism, and it is on record as saying its engagement with the multilateral organizations they join is informed by that approach.
Cyril Prinsloo, researcher of the Economic Diplomacy Programme at the South African Institute of International Affairs, says the agenda is likely to be crafted along BRICS priority areas.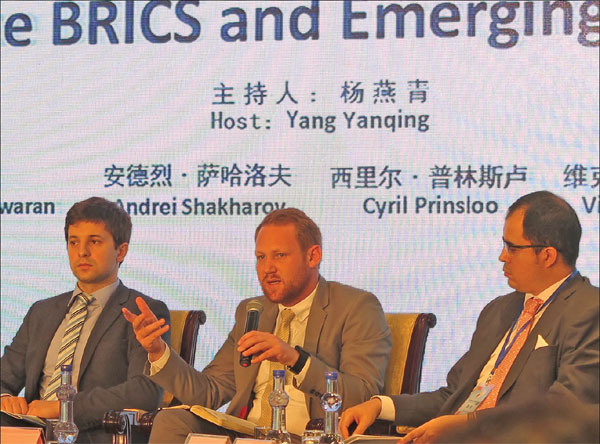 Cyril Prinsloo, researcher of the Economic Diplomacy Programme at the South African Institute of International Affairs, speaks at a recent forum. Provided to China Daily
"BRICS agendas are shaped by the overarching objectives and interests of the group, as well as select priorities from the respective country chairing the group. Some of the BRICS' overarching objectives include promoting sustainable development, global governance reforms and intra-BRICS cooperation on a wide range of issues," he says.
"The agenda in 2018 is likely to include priority issues of the South African government, including greater cooperation between BRICS and other African countries, and an increased focus on peace and development efforts," Prinsloo adds.
He says the group's next summit will be an ideal opportunity to reflect on the progress made over the past decade, and to see how its members can strengthen and deepen cooperation going forward.
South Africa's priorities within BRICS have always been to strengthen cooperation between the BRICS economies and African countries, Prinsloo says. "Seeing how BRICS economic relations can be strengthened beyond the group to, for example, increase investment in other African countries or build greater value chain linkages between the countries stands to benefit all parties."
In addition to moving the BRICS agenda forward, hosting the group will allow South Africa to showcase itself, he says, adding that South Africa could leverage this opportunity to attract greater investment from the other BRICS countries and enhance trade ties.
Among BRICS achievements is the establishment of institutions such as the New Development Bank, Prinsloo notes. While the NDB is still in its infancy, it has significant potential to address some of the challenges faced by developing countries in the financing of infrastructure, he adds.
He suggests that the bloc adopt a monitoring mechanism to ensure that commitments are carried through. "A monitoring mechanism that tracks various commitments and progress made toward implementing these agreements could make a positive contribution to strengthening BRICS cooperation," he says.
Prinsloo also says BRICS should leverage on its two fastest-growing economies, China and India, to turn around the other members' domestic economies through greater intra-BRICS economic ties.
BRICS has done well, though, and has the potential to continue on that trajectory if it acts correctly, he says. "The BRICS (members) have established a solid foundation for cooperation over the past decade. ... They should look to build on this foundation and conducive environment by deepening cooperation to ensure a strengthened partnership."
Meanwhile, the subcommitte on international relations of the national executive committee of the African National Congress, South Africa's governing party, has called on BRICS to enhance cooperation in priority areas. Edna Molewa, chair of the subcommittee, said in a statement that the South African government should promote inwardlooking investment in such areas as special economic zones.
The ANC has recommended that BRICS share best practices and use of WTO flexibilities to promote industrial development.
For China Daily
(China Daily Africa Weekly 12/15/2017 page27)