China's medics provide a much-needed tonic
For half a century, doctors from Tianjin have been helping the Republic of Congo with valuable healthcare, improving the country's level of service
Medical teams from Tianjin, the second-largest city in North China, have been providing services in the Republic of Congo for 50 years.
Today, the Sino-Congolese Friendship Hospital in Brazzaville is home to the 24th Chinese medical mission. Covering a floor space of more than 6,300 square meters, with 100 beds, it is the largest comprehensive hospital in Congo. It was constructed by China State Construction Engineering Corp and was put into service in March 2013.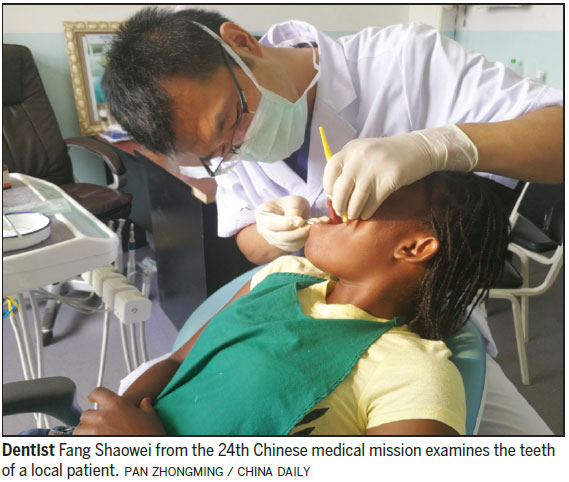 Since 1967, Tianjin has sent medical missions to Congo, each operating in the country for two years. The Chinese medical missions have brought advanced technology and helped to improve the level of medical service of the country.
The current group arrived in August. It has 33 doctors and is divided into two teams: 23 work in the hospital in Brazzaville and 10 in Pointe Noire, the second-largest city in Congo.
The doctors, who range in age from 32 to 55, include physicians, surgeons, gynecologists, ophthalmologists, dentists, ENT doctors and anesthetists.
"For the past 50 years, China has been engaged in the medical cause of Congo," says Martine Beatrice Ponggui, head of the hospital. "This team adapts itself to the operation of the hospital quickly. We cooperate very well."
Upon a team's arrival, the hospital evaluates its needs and works out an action plan to help the team realize its goals, says Ponggui.
"Each medical mission has a two-year service term and, beginning this year, the term changes into one year, causing a problem in the continuity of work," says Wang Zhiyong, the team leader, who is also an anesthetist.
"To tackle the problem, after a short period of working with local doctors, we decided to recruit young local people who have received medical training in China and speak Chinese," Wang says.
For members of the team, the challenge is maintaining their own health during their stay.
Liu Yumei was the first to catch malaria. Liu was a French-language major. One year after she graduated from Anhui Normal University, she joined the medical team as an interpreter and traveled to Congo.
Less than a month after her arrival, she came down with a fever. For two days, the fever remained high. Tests revealed she had malaria.
"Although I am a quiet girl, I was not afraid of being sick, since I was with the medical team," says Liu. "But the illness occurred at such an unfortunate time - my father's birthday."
"Since I came to Congo, video chatting has been a convenient way to communicate with my family," Liu says. "Each time we talk, I wish to show my parents that I am well. But this time I was unable to conceal the situation from my father.
"I was so sad at the time and it made me cry," she says.
However, her colleagues cured her malaria within a week. Their care for her also drove away her timidity.
"The doctors say I must have been bitten by an active mosquito, because I became more active after I was cured," Liu says.
panzhongming@chinadaily.com.cn