Property makes surprise contribution
Real estate investment is unexpected factor in growth of GDP
Despite government curbs to stem some of the feverish buying of residential property last year, real estate investment was one of the surprise factors behind the better-than-expected second quarter GDP growth in China.
Property investment grew by 8.5 percent in the first half compared with the same period last year, boosting construction and other sectors
Much of the growth was in China's lower-tier cities, some of which have escaped measures such as mortgage restrictions to cool activity.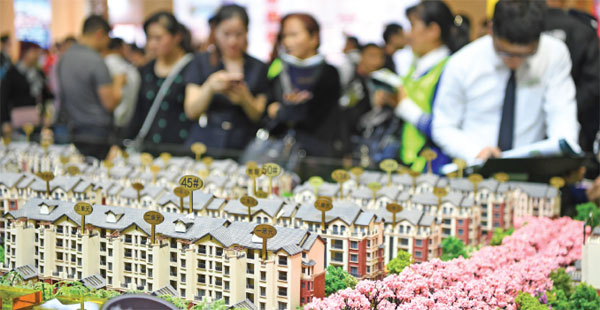 Visitors at a property exhibition in Chongqing in April. Real estate investment was one of the surprise factors behind the better than expected second-quarter GDP growth in China. Wang Quanchao / Xinhua
Henry Chin, Hong Kong-based head of Asia-Pacific research for CBRE, the commercial property services company, says fears of a property bubble remain overstated in China.
"The demand is still very strong in China with the huge number of students graduating, looking for a job and also a place to live," he says.
Prices that were already seen as unfavorable grew by 25 percent in Beijing and by about 19 percent in Shanghai in 2016.
The property price to income ratio is now 40.51, almost double the 23.87 of London, where there are also issues of affordability, according to data company Numbeo.
"This is an issue bothering a lot of people," says Chin. "The government is trying to slow property price growth and at the same upgrade people's incomes with such strategies as Made in China 2025 (aimed at moving the economy into advanced manufacturing and other high-end sectors). This is not something it will be able to do in three or four years," he says.
Another stress point is seen as rental yields, which are typically below 2 percent in China - well less than half of those in some Western markets.
Chin says this is not something that concerns many Chinese buyers who are looking for capital gains only.
"Throughout Asia, in cities like Taipei, Hong Kong and Singapore, rental yields are less than 2 percent. It is a mental and cultural attitude of buyers. When they hold a physical asset, they are looking at the capital price and not income."
Chin says one of the real drivers behind the latest GDP figures has been commercial property.
According to CBRE Research, the company's research arm, commercial property transactions reached 100 billion yuan ($14.8 billion; 12.71 billion euros) in the first half, up 48 percent on the same time last year.
"Over the past 18 months there have been a large amount of transactions by domestic buyers because of stronger liquidity sitting in China (as a result of tighter exchange controls)," he says.
"The strongest sectors have been office and logistics. There is now a major oversupply of not-very-good retail malls, which is a sector facing challenges because of the fast growth in e-commerce."
Louis Kuijs, head of Asia Economics at Oxford Economics, says one of the biggest risks to property prices in China is an opening up of capital markets allowing people to invest more in property and other assets abroad.
"If that happened, then prices in Beijing and Shanghai would suffer as a result. Rental yields would become less out of line with property markets internationally and things would normalize," he says.
He said, however, there was some logic to property prices in China, particularly in the major cities, being high.
"Beijing is expensive because a lot of people other than Beijing residents want to live there."
Duncan Innes-Ker, London-based regional director for Asia for the Economist Intelligence Unit, says the only way the government can regulate the property market is through imposing controls.
"This is being seen in a limited way on the upside with the restrictions on house purchases at the moment, but if prices began to fall sharply the government would probably also impose restrictions on selling, leading to massive reductions in transaction levels."
andrewmoody@chinadaily.com.cm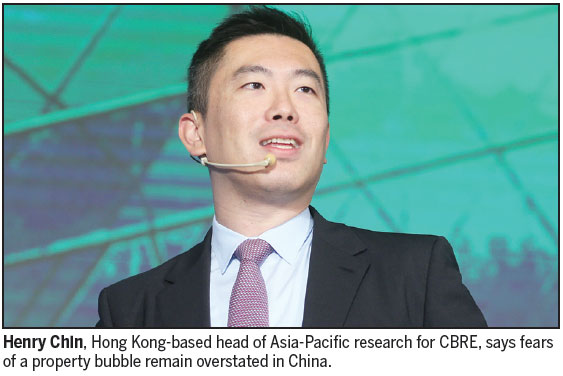 (China Daily Africa Weekly 07/28/2017 page8)