Success? It's in their DNA
Advanced gene sequencing work puts Chinese organization at the cutting edge of medical research
When the Danish government embarked on an ambitious project to map the genome of the Danish population in 2010, it brought Chinese organization BGI on board as the main genome sequencing partner.
The 180 million Danish krone ($26 million; 23.3 million euros; £20.02 million) project, called Genome Denmark, marked the first step of BGI's expansion into Europe, which saw it establish a 1,200-square-meter lab in Copenhagen. "We saw Genome Denmark as an extremely strategically important big-data science project, also significant for precision medicine advancement and the future of the medical field," says Ning Ling, chief development officer at BGI Genomics. "BGI's participation demonstrated the recognition of our capabilities by key players in Denmark's medical and scientific fields, and also allowed us to learn from world-leading medical and science organizations in Europe."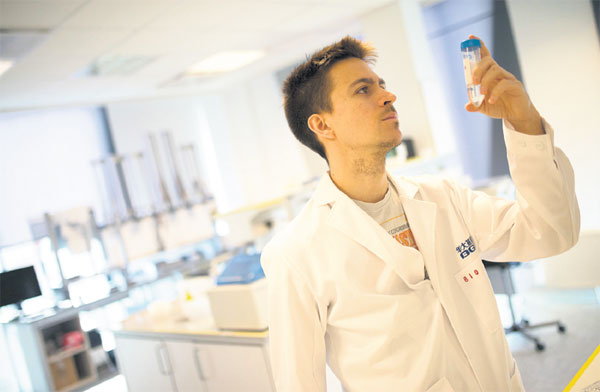 With BGI's help, Genome Denmark has since established a Danish base for large-scale sequencing and bioinformatics. Provided to China Daily
With BGI's help, Genome Denmark has since established a Danish base for large-scale sequencing and bioinformatics. The study's level of detail and thoroughness makes it a world first.
Effectively, the project allowed the Danish government to better understand the genetic makeup of its population, so national-level medical resources can be better coordinated to treat diseases that the Danish people are likely to suffer from and strengthen medical research in those areas.
BGI's contribution to the project was to sequence the genomics data and help industry partners analyze them.
BGI, which was formerly known as the Beijing Genomics Institute, was founded in 1999 as a nonprofit research organization, with a focus on improving human health and empowering large-scale human, plant and animal genomics research.

Initially, it was a nongovernmental independent research institute that participated in the Human Genome Project as China's representative. That project began in 1990 with funding from the United States government. The $3 billion, 13-year Human Genome Project aimed to determine the sequence of nucleotide base pairs that make up human DNA. The project was mainly worked on by geneticists from the US, the United Kingdom, France, Australia and China.
In the years following the Human Genome Project, BGI built up its competence in the field and completed a series of other sequencing projects. In 2002, it sequenced the rice genome, which was a cover story in the journal Science. And in 2003, BGI decoded the SARS genome and created a kit for detection of the virus. BGI also completed the genome sequencing for the deadly 2011 German E. coli outbreak in three days.
Over time, the company grew to become the world's most prolific sequencer of human, plant and animal DNA. It says it has processed a large number of samples for research and clinical applications. Its collaborations have extended to at least 100 countries and some 18,000 partners.
In 2010, BGI passed major milestones in its international expansion, establishing a US subsidiary in Cambridge, Massachusetts, and a European subsidiary in Copenhagen, Denmark.
"Europe is very important for BGI," said Ning, who noted that Europe's abundant genomic data and its efforts to push forward precision medicine development make it a crucial market for BGI's expansion.
"European clinical doctors and scientists have along-standing practice of keeping large clinical data samples, so, as we are an organization specializing in genomic sequencing, Europe provides us with a good foundation for growth. In addition, European countries have relatively mature and comprehensive public health systems, and some European countries are already investing in infrastructure for precision medicine. To be able to participate in this process helps us accumulate valuable experience."
In Europe, the Genome Denmark project helped BGI establish new industry connections, including links with various university hospitals and private medical companies working on the same project. It also let BGI establish a reputation in Europe, which led to it securing many other projects throughout the continent in the following years, including two major projects in the UK.
One of those was the UK10K project, led by the London-based Wellcome Trust, which helps researchers better understand the link between low-frequency and rare genetic changes, and human disease caused by harmful changes to the proteins made by the body.
As its name suggests, the project studied the genetic code of 10,000 people, with sequencing starting in late 2010. BGI was the main sequencing partner.
Results led to the publication of many scientific papers related to the understanding of diseases, with new findings published in leading science journals, including Nature.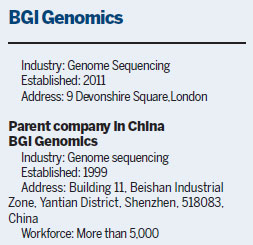 The second project based in the UK, the China Kadoorie Biobank project, investigated the main genetic and environmental causes of common chronic diseases in the Chinese population. Examples include heart attacks, strokes, diabetes and cancer. The research was led by the University of Oxford's Clinical Trial Service and Epidemiological Studies units and the Chinese Academy of Medical Sciences.
Starting in 2004, the CKB project collected and analyzed blood samples and physical measurements from 510,000 adults in China. BGI was brought in to provide genetic sequencing and data interpretation, enabling the study to draw more meaningful conclusions.
Earlier this month, BGI established a partnership with the genomics software company Congenica to bring cutting-edge genome-based medicine to China's healthcare system.
BGI has invested an undisclosed sum in Congenica, and signed commercial contracts to use the Cambridge-based company's software, called Sapientia, to support BGI operations in China. Sapientia analyzes a patient's entire genome, pinpointing mutations and generating rapid and accurate diagnosis of inherited diseases.
Essentially, the Sapientia technology helps to increase the accuracy of the diagnosis of genetic diseases. Currently, when a doctor suspects a patient has a certain genetic disease, tests will be ordered on a small number of genes, and an accurate diagnosis may be made in only around 5 percent of cases.
"Now, imagine going in and looking at all 22,000 genes in a patient - you have a much higher chance of identifying the mutation and making a diagnosis," says Congenica CEO Tom Weaver. "With this technology, we see an increase in an ability to diagnose a patient of at least tenfold. We're seeing cases of up to 50 to 60 percent of diagnoses in certain conditions."
In addition to genetic sequencing, another crucial part of BGI's work is in clinical noninvasive prenatal testing. BGI uses its advanced lab facilities to analyze data and provide a highly accurate risk assessment for certain genetic conditions. BGI has also helped private healthcare organizations set up their own testing centers throughout Europe.
Matt Poulter, marketing manager at BGI, believes one factor underlying its success domestically and in Europe is its vibrant and young corporate culture, a characteristic that has played a key role since the company's early days. BGI's Copenhagen lab is now home to 15 workers, mainly researchers, with an average age of 30.
Looking to the future, Poulter says BGI will continue to expand in Europe.
Having a base on the continent allows the company to keep abreast of the latest genomics research from Europe's leading institutions in countries including the UK and Denmark.
"We can also learn important lessons from scholars in those countries, such as how to structure our studies," he says.
"Working in a fast-changing and highly competitive industry also means BGI needed to strategically target key medical fields that are important for the future, with examples being precision medicine, clinical testing and drugs targeted to treat cancer. We invest across all those areas that we think are important for the future, to maintain our competitive strength.
Angus McNeice contributed to this story.
cecily.liu@mail.chinadailyuk.com
(China Daily Africa Weekly 05/26/2017 page30)