Chinese companies making inroads
Senegal's government reforms and relative stability are proving attractive proposition
The latest round of government reforms is attracting Chinese companies to the West African country of Senegal.
Late last year, the government approved policies targeting the taxation system, including simplifying procedures, that apparently caught the attention of Chinese construction companies. Relative stability is another factor that has encouraged Asian companies to make inroads, albeit slowly, and to invest in the rapidly growing economy.
According to China Road and Bridge Corp, which successfully completed construction of the Thies-Touba Toll Highway Project, the preferential policies for foreign investment touching on tariffs, value-added tax, employer tax, capital tax and land acquisition tax are to be commended.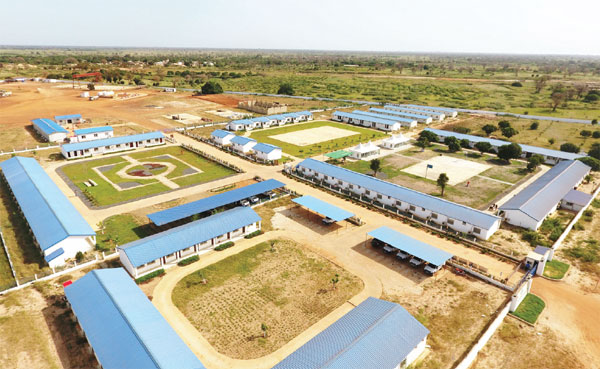 The base camp of the Thies-Touba Toll Highway in Senegal. Provided to China Daily
"China and Senegal have signed a number of agreements, including a policy against double taxation that incorporates income and corporate tax provisions for businesses operating in the two countries," says CRBC in Senegal. This means that a subsidiary that has paid taxes in the country of operation cannot be asked to pay taxes of a similar nature for repatriated proceeds.
In 2015, Senegal received about $7 billion from the Export-Import Bank of China for the construction of the 113-kilometer-long highway. According to the Ministry of Economy, Finance and Planning, it is Senegal's largest infrastructure project since the country's independence in 1960.
It not only eases mobility between Touba and Thies, which is 70 kilometers from the capital of Dakar, but also generated jobs - more than 7,000 during construction and 600 permanent jobs after completion of the project. This opened the doors to an additional $400 million for construction of a highway connecting Blaise-Diagne International Airport near Dakar with Mbour and Thies.
The entry of Chinese companies has been prompted not only the increasing trade volume between the two countries, but also Senegal's development ambitions to attain upper-middle income and emerging market status by 2035.
According to the country's development strategy, launched in 2014, Senegal President Macky Sall's administration aims to sustain high per capita GDP in part by building better infrastructure and through private investment in key sectors.
At last year's Tokyo International Conference on African Development in Nairobi, Kenya, Sall, in his capacity as Senegal's president and chairman of the New Partnership for African Development - the technical body of the African Union - visited the soon-to-be-launched Mombasa-Nairobi Standard Gauge Railway. He hopes to replicate the project in his country.
"After inspecting the Mombasa-Nairobi railway, the president noted that railway construction has a positive role in promoting a country's development. When Lu Shan, the general manager of CRBC, met with him and the transportation minister earlier this year, the minister hinted at the possibility of allowing Chinese companies to participate in the planning of the infrastructure, hoping to adopt the high technology and work culture that is synonymous with Chinese companies in Africa," says CRBC. "The infrastructure is expected to revitalize the economy," it adds.
However, their latecomer status has seen these companies face stiff competition from foreign and local companies. Nonetheless, Chinese companies still have an edge based on their competitive pricing and construction experience, especially gained from projects in other African countries.
Partnerships with local companies are also proving pivotal in winning government bids and beating the competition. At least 30 Chinese companies have set up subsidiary offices, says an official from Overseas Engineering Corp of China Railway Seventh Group, who requested anonymity because he was not authorized to speak for the company.
"Local companies understand the market and know the regulations of the construction sector. We only bring in the finances and expertise to manage huge projects, but having themas our allies boosts our credibility here, too. If you miss an opportunity, you may never get it again," he says.
The official believes that Africa's construction sector will grow rapidly in the years ahead to complement its upward growth trajectory, and Chinese companies will continue playing a crucial role in this growth.
lucymorangi@chinadaily.com.cn
(China Daily Africa Weekly 05/12/2017 page27)