A breath of fresh air
Global leaders take heart from President Xi's stance on free trade at Davos Forum
Global leaders once again gathered in the snowy Swiss Alpine resort of Davos this week to find new drivers for economic growth in 2017 - and they seem to have taken encouragement from China's advocacy for openness and free trade.
For the first time ever, the World Economic Forum was attended by Chinese President Xi Jinping, who gave a keynote address vigorously defending free trade.
It was applauded by political and business leaders as a rich symbol of China taking the lead in global issues, reflecting this year's forum theme of "responsive and responsible leadership".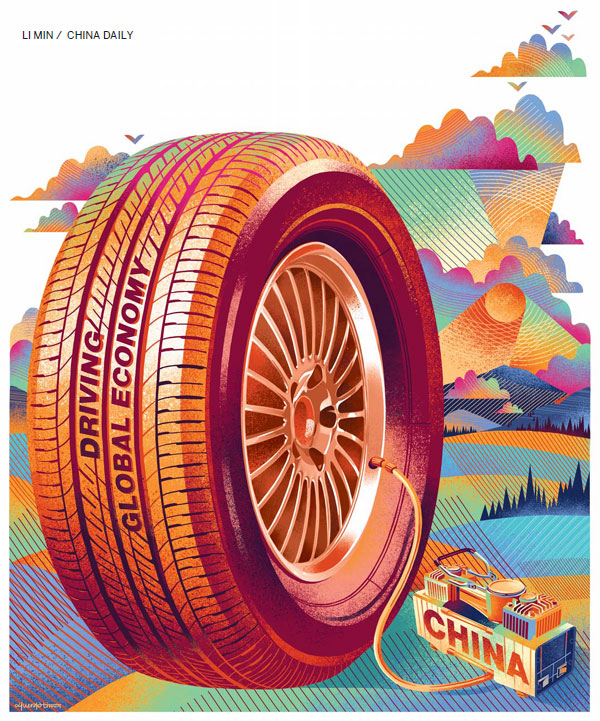 "There is no point in blaming economic globalization for the world's problems because that is simply not the case," Xi said on Jan 17. The four-day forum ended on Jan 20 and was attended by 3,000 delegates.
Offering his suggestions for new sources of growth, Xi stressed the need to develop a dynamic innovation-driven growth model, which leads to win-win cooperation, fair and equitable governance and balanced, equitable and inclusive development.
Klaus Schwab, executive chairman of the World Economic Forum, praises Xi's address, saying his commitment is crucial "to the innovative, open and inclusive world."
"We're living in a global, interdependent world and we cannot recreate artificial borders. Globalization is a win-win situation and we have a common destiny as humankind," Schwab says.
He acknowledges the "Chinese Dream" initiated by Xi while calling for a "Global Dream", a dream of a world that remains innovative, open and fair.
The World Economic Forum in Davos, founded 47 years ago, has made a name for itself as both a gathering for global elites and an incubator of new ideas, but this year China's strong participation made it special.
"Xi's remarks come at a critical juncture in history," says Danae Kyriakopoulou, head of research at the think tank Official Monetary and Financial Institutions Forum.
"The US and the UK, once the champions of economic liberalism and the proponents of globalization, are retreating from the world stage and from integration with their neighbors. In this context, Xi's speech was a refreshing showcase of his leadership on the world stage," Kyriakopoulou says.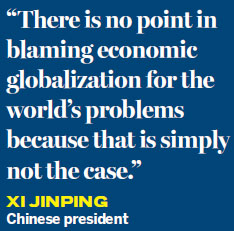 Xi's speech comes at a time when sluggish economic growth in the West has led to signs of protectionist measures. Populist leaders have been taking advantage of the dissatisfaction of those left behind by globalization.
US President Donald Trump, who did not attend the forum due to his inauguration, pledged during his election campaign to pull out of the 12-nation Trans-Pacific Partnership.
Meanwhile, the UK is experiencing Brexit-related uncertainties after the British public voted to leave the European Union in a 2016 referendum.
Aside from Xi's address, China's representation at Davos this year is unprecedented. Insightful sessions by Chinese entrepreneurs like Dalian Wanda's Wang Jianlin and Alibaba's Jack Ma have been hugely popular. The interest is easy to understand, especially considering Alibaba made history as the largest Initial Public Offering on the New York Stock Exchange in 2014. Dalian Wanda made headlines in 2016 with the $3.5 billion (3.2 billion euros; 2.8 billion) purchase of production house Legendary Entertainment, becoming the first Chinese company to own a major American film company.
Chinese firms are shaping and shaking the world economy, but so are many China-initiated trends and concepts. China's Belt and Road Initiative, China's outward direct investment, Chinese firms' globalization and China's middle-class consumers are hot topics repeatedly featured at panel discussions this year.
Perhaps China is now inseparable from the global economy.
"China advances on all fronts and no longer hesitates to propose its own models, its own values," says Andre Loesekrug-Pietri, founder and managing partner of ACapital, a private equity fund.
Three years after Xi proposed the Belt and Road Initiative, which seeks to increase Europe and Asia's trade and investment relationships through improved infrastructure, it has received support from more than 100 countries and international organizations. More than 40 countries and international organizations have signed cooperation agreements with China, and Chinese companies have made more than $50 billion of investment, spurring the economic development of these countries and creating many local jobs.
The China-led Asian Infrastructure Investment Bank is introducing a new model for multinational development banks.
"What's striking about the AIIB is its ability to deploy lots of capital, especially by pulling capital from the private sector. In scale and ambition, many older generation multinational development banks can learn from it," says Lord Mark Malloch-Brown, former United Nations deputy secretary-general.
As China increasingly plays an important economic role internationally, the country is also opening up and liberalizing its domestic market - a comment Xi reiterated at Davos.
In 2016, the Chinese government significantly increased foreign access to its domestic bond and stock markets. The internationalization of the renminbi, marked by its inclusion in the International Monetary Fund's basket of special drawing rights currencies, is seen as a great contribution to global financial stability.
"Increased usage of the renminbi in global trade transactions and as a reserve currency by central banks in a number of developed and developing economies will, in time, reduce vulnerability to bouts of US dollar strength," says Phyllis Papadavid, a senior research fellow of the Overseas Development Institute think tank.
"The renminbi's inclusion in SDR and its growing internationalization is a reflection of China's ongoing financial deepening and expansion. Chinese policymakers are likely to continue to set the conditions for further financial and economic liberalization," Papadavid says.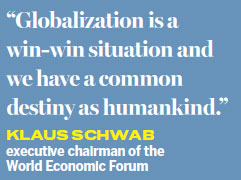 But China's international leadership is not just reflected in economic issues, as Davos participants highlight.
Helen Hai, a goodwill ambassador for the United Nations Industrial Development Organization, says China can take a leadership role in achieving sustainable development goals, especially by sharing with other developing countries its own lessons in industrialization and poverty reduction.
"I'm so glad to see such huge participation from China this year at Davos. China has made significant contributions in the Millennium Development Goals, it achieved the biggest poverty reduction globally and, going forward, China is going to tell the world how it has transformed itself," Hai says.
Last year the Chinese government released plans aiming to lift all of China's poor, by current standards, out of poverty by 2020, 10 years ahead of the schedule set by the UN sustainable development goals. To help other developing nations achieve their targets, China also pledged aid through the China-initiated assistance fund for South-South Cooperation and the China-UN Peace and Development Fund.
Business leaders also warmly welcomed China's continued commitment to the Paris climate accord on reducing carbon emissions.
In September 2015, China announced its aim to hit peak CO2 emissions by around 2030 and slash emissions per unit of the GDP by 60-65 percent from the 2005 level.
"China's voice (at Davos) is urgently needed," says Tom Szaky, CEO of TerraCycle, a US recycling technology firm, explaining Davos can help China develop important and timely alliances with businesses and non-government organizations on environmental issues.
"China is taking the lead in terms of investing in a more sustainable future through changes in energy, waste and other consumer patterns," Szaky says.
Despite optimism over talk of growth at Davos, many challenges still exist for global growth in 2017, perhaps further highlighting the importance of China's contribution.
Papadavid of ODI says she sees continued sluggish growth in the global economy as heightened political uncertainty in the US, Europe and the UK could reduce investment intentions, while protracted weakness in commodities is likely to reduce trade growth, especially in emerging and developing countries.
"China's economic transformation will be important. The emergent strength in China's household sector is likely to provide a stimulus to global growth," Papadavid says.
In his advocacy for globalization, Xi stressed that China has not only benefited from economic globalization but also contributed to it.
He explained that rapid growth in China has been a sustained, powerful engine for global economic stability and expansion, while the inter-connected development of China with a large number of other countries has made the world economy more balanced.
The numbers speak for themselves. In the coming five years, Xi said, China is expected to import $8 trillion-worth of goods, attract $600 billion of foreign investment and make $750 billion of outbound investment. Chinese tourists will make 700 million overseas visits.
China's contribution to global economic growth and its unprecedented participation at Davos have highlighted the country's growing international leadership.
"There is a vacuum when it comes to global economic leadership and Xi Jinping is clearly aiming to fill it," says former Swedish Prime Minister Carl Bildt.
cecily.liu@mail.chinadailyuk.com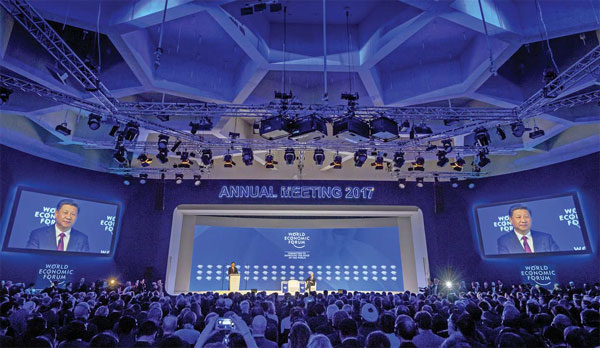 President Xi Jinping delivers the keynote speech at the World Economic Forum on Jan 17 in Davos, Switzerland. Fabrice Coffrini / AFP
(China Daily Africa Weekly 01/20/2017 page1)