Factory of the future: Clean, high-tech
Get ready for a complete rethink of the workplace as innovation takes manufacturing to a new level
Factories have long held a place in the popular imagination, not just as sources of employment and community prosperity, but also as hectic, noisy, grimy and polluting facilities where thousands of people are employed in largely low-skill jobs.
Today's factories are changing. Breathtaking advances in technology, automation and globalization are transforming how and where manufacturers plan, construct, operate and integrate their factory networks. They are also ushering in significant operational, political and societal changes.
From rust belt America to rural India and China, a chorus of voices is struggling to understand: How are technologies changing how we produce and distribute products? Are automation and free trade taking away valuable factory jobs? What type of skills will be required? How can communities prosper in the face of new production technologies? How and when should manufacturers upgrade their legacy equipment to embrace new technologies to boost yields and efficiency for greater profits or simply to remain competitive?
These are the questions we've been pondering as we've worked as a Knowledge Partner on the World Economic Forum's Future of Production initiative. Businesses, governments and society alike must understand the technological dynamics at play and collaborate to ensure that tomorrow's factory towns prosper.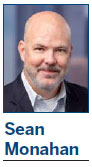 What will the factory of the future look like?
The answers will come from the factory floor, where new technologies like 3D printing, advanced robotics, the internet of things, artificial intelligence, wearable devices and virtual and augmented reality are converging to create new value, enabling the hyperefficient and flexible factory of the future.
The value created is real: Large global producers have increased efficiency and reduced costs by up to 30 percent across all operations, driven by improvements in overall operating efficiency, lower inventory, energy and water costs and reduction in incidents involving safety.
While the pace of change, and how these changes will propagate across networks, will differ by industry and country, the factory of the future is a more digital, more virtual and more resource-efficient space. It is an environment that is more connected - both in terms of information availability and machines speaking to and directing each other.
Automation, simulation, visualization and analytics are deployed more widely to eliminate waste and increase efficiency in material yields, energy consumption, effort and time.
In particular, factories of the future have three common overarching characteristics:
Digital shop floor processes that are connected, automated and flexible. The internet of things and connectivity combined with analytics and artificial intelligence will improve asset efficiency, decrease downtime and unplanned maintenance, and allow manufacturers to uncover new sources of value in services.
By employing digital twins, simulations and virtual reality, designers and operators will virtually immerse in interactive media to optimize design, production processes and material flows.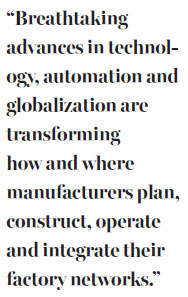 New relationships between operators and machines. Technologies are changing the nature of work and skills required from operators. Robotics are automating most of the "dull, dirty and dangerous" tasks and, increasingly, collaborative robots are moving out of the cage to work side-by-side with operators. Augmented reality and wearables are also changing how operators train, assemble and make decisions on the shop floor; increasing flexibility, productivity and quality.
Labor will actually remain cost-effective in many arenas, as technology allows workers to significantly improve their productivity even as overall numbers decline. Some human-cyber combinations will likely remain the dominant cog in factories for several years to come, certainly well into the coming decade.
Structure, location, and scale of factories. The factory of the future is hyperefficient and sustainable, increasingly modularized with interchangeable lines that can be easily reconfigured for multiple production batches. Digital production technologies will allow software developers, product designers and production technicians to work in open, airy environments.
As technology diminishes the role of low-cost labor and lowers the threshold of economies of scale, distributed manufacturing will become the norm, with producers augmenting their traditional production footprints with smaller and more flexible units located next to points of consumption, allowing them to meet local requirements with a more responsive supply chain.
These more localized, more energy-efficient, lower-waste factories will contribute to advances in the circular economy.
The author is a partner in the New York office of A.T. Kearney (www.atkearney.com), a global strategy and management consulting firm. The views do not necessarily reflect those of China Daily.
(China Daily Africa Weekly 01/13/2017 page9)