Building a sound future from bamboo
China is committed to helping East African countries eradicate poverty - and bamboo is playing a leading role in its efforts.
Lou Yiping, director of the Center for China-Africa Agricultural and Forestry Research, says China has a wealth of experience it can share with African countries, having largely eradicated poverty in three decades.
In partnership with other providers of South-South cooperation, he says, China is engaged in innovative projects to help African countries achieve sustainable development.
Lou cites the Dutch-Sino-East Africa Bamboo Program, which is helping Ethiopia, Kenya and Uganda develop bamboo-growing sectors.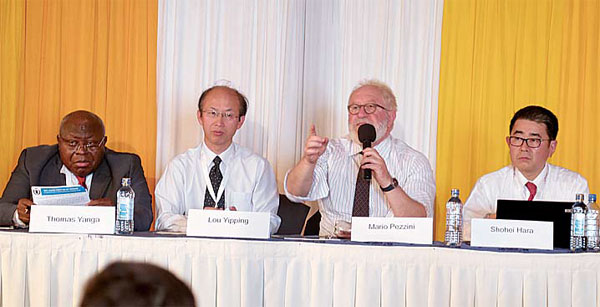 Lou Yiping (second from left) at the second high-level meeting of the Global Partnership for Effective Development held in Nairobi, Kenya, on Dec 1. Edith Mutethya / China Daily
The program involves a partnership aimed at transferring know-how on bamboo development between China, the Netherlands and the three East African countries.
The initiative links China's wealth of bamboo knowledge with Netherlands' bamboo sector expertise.
As the world's leader in bamboo processing and development, China has supported African bamboo sector development for many years and has much expertise to share.
The country's innovations and policy support have seen its domestic bamboo sector grow from a subsistence activity in the 1980s, to a vast industry, currently worth $32 billion (30 billion euros; 25.3 billion) a year. It employs 7.8 million people and has restored more than 3 million hectares of degraded land. Internationally, China leads the bamboo export market, accounting for more than 60 percent of the trade.
The Netherlands, on the other hand, is the world's largest bamboo importer and a leader in design and marketing.
Lou says the knowledge transfer will help the East African countries assess their bamboo resources and build business models that create jobs and expand local industries.
"In East Africa, there are good bamboo resources and national government policies in place to promote the material. However, the sector suffers from a limited industrial value chain with weak capacity," he says.
The trilateral cooperation aims to reduce poverty and promote green economic growth through the development and improvement of the industrial bamboo value chain in East Africa.
This is in addition to reducing land degradation and mitigating climate change, as well as increasing trade between Europe, East Africa and China.
Lou says Dutch private-sector engagement in China has been critical over the last 20 years in building export capacity. Likewise, he hopes for similar success with the African bamboo project.
"The expectation is that the two countries will be able to achieve similar results with East African partners, where entrepreneurs are already investing in bamboo manufacturing," he says.
The bamboo program is being facilitated by the International Network for Bamboo and Rattan, or INBAR, an intergovernmental organization hosted in Beijing.
INBAR has been using a South-South partnership approach to support bamboo and rattan resource countries in improving rural livelihoods. Forty of INBAR's 41 member states are from the global south, located in Asia, Africa and Latin America and the Caribbean.
According to the organization, 8 percent of the world's bamboo resources are found in Africa, hence it's recommending intensification of the Asia-Africa exchange of expertise, so that African countries can fully benefit.
Many of the organization's efforts have been supported by China. The country has backed the development of bamboo and rattan sectors across the global south for many years and shared its practical expertise with partner countries.
Other examples of South-South bamboo and rattan cooperation in action include bamboo charcoal partnerships in Ghana and Ethiopia to build the skills of government agencies and rural communities for producing the green energy product.
Another is a bamboo construction scheme in Latin America, which shares know-how between Colombia, Peru and Ecudor on construction skills and the creation of national building codes.
edithmutethya@chinadaily.com.cn
(China Daily Africa Weekly 12/09/2016 page28)