Experiences of China: One student's journey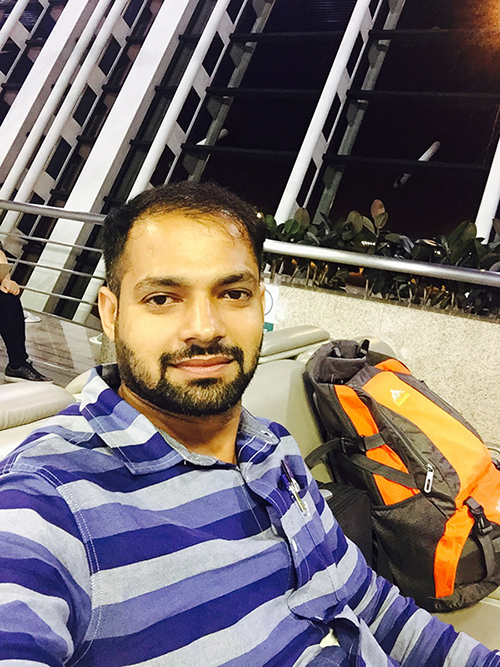 Mehran Idris Khan waits for the flight to Qingdao at Shanghai International Airport. [Photo provided to chinadaily.com.cn]
Life itself drives us where we deserve to be. All you need is to have a plan, commit to your goals, prepare, be consistent and have faith. My story is one example. After graduating with a law degree from Pakistan, I planned to continue my postgraduate studies with a Ph.D in international law.
The question arose: Where to go for this? It is true that China is a symbol of ambition, hard work and success around the globe. Pakistan-China relations over the years show China is an ideal place for Pakistani students. In fact, the amazing academic and research developments in China have made the country first choice for Pakistani students. Chinese educational institutions have made their mark globally, attracting students and professionals from around the globe.
My decision to study in China was based on the amazing academic facilities, global standards of education and research, friendly Pak-China relations and above all, the love and hospitality of the people of China. China without a doubt has become a second homeland for the people of Pakistan. The China Pakistan Economic Corridor project has further strengthened and promoted our bilateral relations, opening windows for education, research, trade, economic and social exchange. I am convinced that China is the best place for studying international law for Pakistani students.
In my search, I looked for the best universities with high rankings and renowned faculties, learning the procedure to apply for China Scholarship Council. After reading about the faculty and the school's research achievements, I shortlisted Shandong University. I was inspired by the research of Professor Yen-Chiang Chang at the university; I sent an email to him requesting the acceptance letter, he appreciated my work and granted it.
Thereafter I started making arrangements about traveling to the university. There were many questions: What to bring along with me? Where to buy the airline ticket? And so on. On Sept 11, I flew from Lahore Pakistan to Bangkok, then Shanghai and Qingdao. I reached the airport at midnight. It was like entering a new planet, where I had no contacts or references, nor was I familiar with the local language.
At first, I felt like a fish who'd jumped into a dry boat, trying to find a way out. I reached the university an hour after leaving the airport, but couldn't find where the international students' office was located. After asking many local students, none of whom knew about the ISO, I found two Chinese female students, also from the law school. At last, someone from my school who can also speak English! They tried their best, taking me to two or three offices but they all said, "Sorry, you are in the wrong place." They took me to the law school afterward, carrying my baggage by themselves the whole way. They were very caring, responsible and cooperative girls. After talking with the staff, they took me to the dormitory in the car of a staff member there. They didn`t move from there until I found the keys to my room, and even after that they asked if I was OK or still had any questions. It was touching to be helped in such a selfless way.
China has earned research prestige in almost all fields of science and the humanities. The country's achievements have attracted a large number of students across the globe to start their academic careers in China. The China Scholarship Council has, without a doubt, left no stone unturned to treat foreign students with care. For me, it was a turning point in my life when I earned a CSC scholarship to pursue my international law Ph.D in China. Moreover, the 2020 mission statement of the Chinese president regarding economic targets and achievements has made it more interesting to study the success and well-beings not only of the people of China, but all the individuals who have concerns in the country.
All that has happened to me after arriving in China has made an impression on my heart. The Chinese people are full of hospitality, genuinely cooperative, wise-hearted, with a welcoming nature. All concerns I had in my mind about the language barrier, or other difficulties were proved wrong once I arrived in China, the products of misperceptions and misinformation. After coming here, I feel at ease and comfortable being here with the most loving and helpful people in the world. While I will study international Law here at SDU, I also hope I will better understand humanity, hospitality and ethics while living and learning at Shandong. I believe this new understanding will polish and shape me into a brand new human being.
Mehran Idris Khan is a Ph.D graduate and a scholar of international law at Shandong University.