India should not expect China to compromise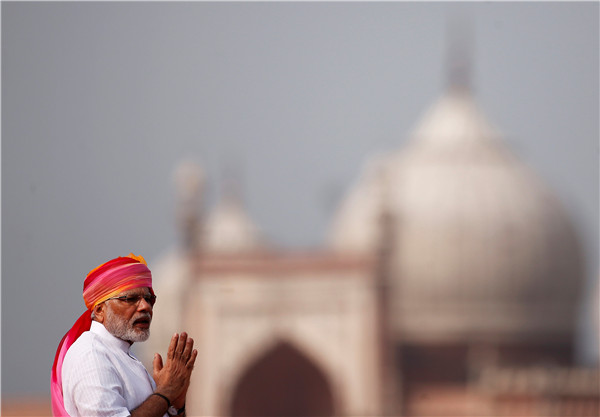 Indian Prime Minister Narendra Modi gestures as he addresses the nation from the historic Red Fort during Independence Day celebrations in Delhi, India, August 15, 2016. [Photo/Agencies]
Ever since India sent its troops across the Sikkim section of the border into Donglang area of China on June 18, sparking a tense face-off between soldiers of the two countries, no progress has been made in dissolving the tensions.
One of the arguments that India has used to justify its troops illegally crossing the delimited Sikkim section of the China-India boundary, which is mutually recognized by the two sides, is that it claims the area where China is constructing a road belongs to Bhutan, with whom it has a friendship treaty.
However, although the boundary is yet to be demarcated officially, China and Bhutan have a basic consensus on the boundary alignment, and China has been strictly observing this. Its road building activities do not breach any agreement with the country or undermine the status quo.
Indeed, it is India that is making an issue of Donglang, so as to hold back the China-Bhutan boundary negotiations. And it is the illegal crossing of Indian troops into China's territory that has changed the status quo.
Another of India's arguments is that the Chinese road construction carries "serious security implications" for it. India fears that if China completes the road, it could facilitate a possible Chinese attack on the narrow strip of land that connects India's northeast states with its mainland.
This is ridiculous. And no country can pursue its security at the cost of another country's sovereignty.
And since, India, the United States and Japan have begun their 10-day Malabar naval exercises in the Bay of Bengal, which are the biggest of their kind so far, and the US approved a $365-million sale of military transport aircraft to India last week and a $2-billion deal for surveillance drones is in the works, it is China that should feel "security concerns", given the importance of the Indian Ocean for its trade and oil imports.
So far, China has exercised the utmost restraint and sought to achieve a peaceful solution through diplomatic means, but New Delhi should realize Beijing will not make any compromises when it comes to its territorial integrity.
India should withdraw all of its troops that have crossed the delimited boundary back to its own side, a move that is essentially different from the previous standoffs between the border troops of the two countries in undefined areas. This has undermined the political basis for bilateral relations.
India should respect the provisions in the boundary convention, before the situation deteriorates and leads to more serious consequences.