Chongqing revisited through my lens
Two days downriver from Leshan in Sichuan I arrived at Chongqing, at Chaotianmen. It was July 1994 and I was on a journey by boat following the Changjiang. Although a major inland port there were no docks or quays - seasonal water flow variations meant vessels either tied up at a series of pontoon piers or simply beached on muddy shores with passengers disembarking via wooden planks. Chaotianmen historically has been the gateway and transhipment point to the city - at 160 metres altitude it is the lowest point in central Chongqing.
'Chongqing, rising high above the confluence of the Changjiang and Jialingjiang, is both a 'City on Rivers' and a 'Mountain City'- a reflection not just of its spectacular backdrop but also the steepness of the city's many hills that render use of traditional bicycles almost impossible. The arduous climb up a long flight of stone steps from the river banks at Chaotianmen helps reinforce Chongqing's reputation as one of the 'Three Furnaces of China''. (Bruce Connolly 1994)
Apart from comfortable 'Three Gorges' cruise ships, few passenger boats today traverse the waters of the Changjiang. In March this year I arrived by overnight train from Beijing at modern Chongqing North Station. Onward connection to downtown dramatically illustrated Chongqing's contemporary infrastructure. Unlike most Chinese cities where metros burrow under ground Chongqing has operated since 2005 a unique 'straddle-like' monorail system carrying passengers mostly above ground. This provides not only magnificent views of the city but at night crossing Niujiaotou Jialingjiang Bridge the strings of lights illuminating riverside buildings and bridges.
The monorail brought me near Jiefang Square, effectively the city centre. In 1994 this was a traffic roundabout surrounded mainly by low-rise buildings housing domestic department stores. Today, pedestrianised and with modern architecture, it is home to international fashion brands, coffee shops and more. Nearby, with a unique red and black exterior, rises Chongqing Art Gallery (Jiefangbei Guotai Arts Centre). In March 'Chaotianmen Image Exhibition' featured an extensive photography collection detailing the story of Chaotianmen - its relationship between the rivers and the city. It was an honour to have several of my 1994 images included.
Jiefang and Chaotianmen are within Yuzhong, the fascinating 'Old City' of Chongqing. Physically restricted space, narrow roads, buildings high and close together creates a feeling of 'buzz', of vibrant street life, of a people's city.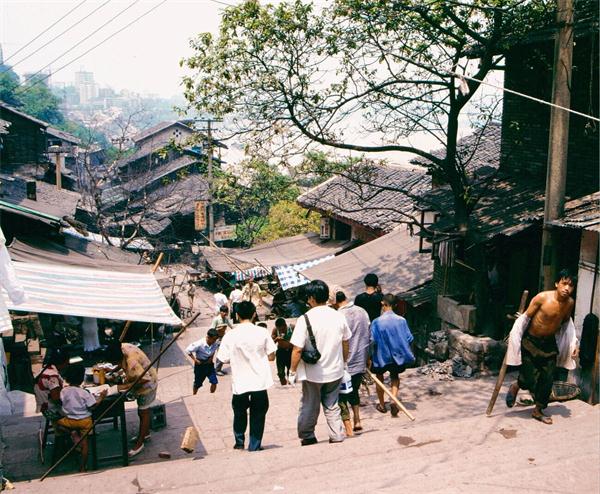 Traditional 'Old Chongqing' - staircase street 1994. [[Photo taken by Bruce Connolly]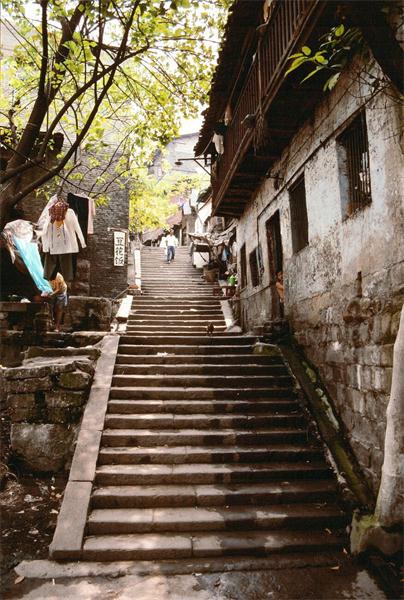 Traditional 'Old Chongqing' - staircase street 1994. [[Photo taken by Bruce Connolly]