An example of what not to do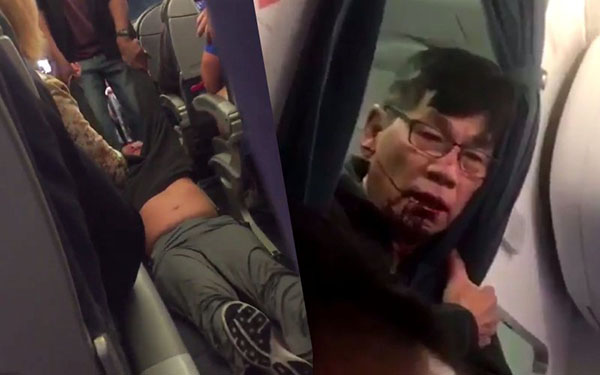 A 69-year-old male who was violently dragged off a United Airlines flight is seen a video clip. [Photo/Twitter]
Video of an Asian passenger being dragged off a United Airlines flight by airport police in Chicago on Sunday night, which went viral on the internet, has drawn widespread public anger.
The apparent overuse of force by law enforcement personnel was disturbing, as the 69-year-old man, David Dao, can be seen to be bloodied and obviously dazed.
Dao posed no security threat at all to other passengers. But he was forcibly removed from the overbooked plane after he refused to relinquish his seat when asked to do so, with justifiable reason: As a doctor, he needed to get home to treat patients.
The way Dao was treated is inexcusable, yet the airline's CEO Oscar Munoz in his statement on Monday called Dao "disruptive and belligerent", suggesting he was to blame for the altercation.
This callousness fueled more outrage, and sparked calls for people to boycott the airline.
The CEO's latest statement on Tuesday, in which he described the removal as "truly horrific", and that the airline took "full responsibility", at least recognizes the truth of the matter. However, his promise to review the airline's overbooking policies may have come too late, because the damage to the airline's image has already been done.
It is common for US airlines to "bump" passengers from overbooked flights. But the latest case should prompt the airline industry to review this practice. Although, the airline claimed that Dao was randomly selected by a computer, one cannot help but wonder what parameters are used for the selection process.
Meanwhile, no company can thrive by showing it does not care about its customers.
In this sense, the US airline companies can learn from their Asian counterparts, such as Emirates, Singapore Airlines and Cathay Pacific, which excel in ensuring customer satisfaction as shown by numerous surveys and awards.