Entrepreneurship not speculation key for new area success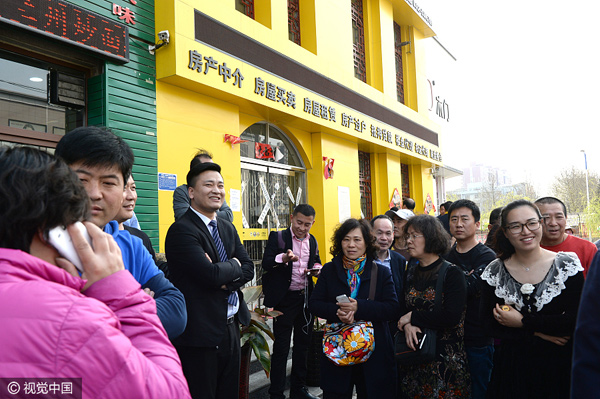 People stand in front of a real estate agency that has stopped operation in Anxin county, North China's Hebei province, April 3, 2017. [Photo/VCG]
On Saturday, the central government announced its plan to create Xiongan New Area in North China's Hebei province, as part of its measures to push "inclusive development" of the Beijing-Tianjin-Hebei region in a coordinated manner.
The move is expected to have a significant bearing on the country's future development, and many people have drawn parallels with the Shenzhen Special Economic Zone and Shanghai's Pudong New Area, the country's two most important economic hubs that have spearheaded the prosperity of the Pearl River Delta and the Yangtze River Delta, and which are deemed to have been successful test beds and drivers for the country's reform and opening-up initiative.
What is worrying, however, is that even before a concrete development blueprint for the new area has been revealed, a large number of investors, from within Hebei and beyond, have swarmed into the region, which includes three counties in Hebei that are about 100 kilometers south of Beijing, to buy flats in anticipation of profiting from rising property prices. As a result, the prices of apartments in these counties have reportedly doubled, even tripled, in just three days after the plan for the new area was announced.
The white-hot real estate market in the planned new area has prompted many to lament the loss of the spirit of entrepreneurship in today's China. They argue that in the early days after the launch of the Shenzhen Special Economic Zone in 1980, many of the country's ambitious young people traveled a long way to what was then a small undeveloped county seat in South China's Guangdong province. Unlike the speculative asset investors swarming into Xiongan today, many of those newcomers in Shenzhen sought to launch their own businesses, beginning with just very small workshops. The trailblazing spirit of those entrepreneurs is thought to have helped lay a solid foundation for the success of Shenzhen today.
Although this sentiment is not without foundation, as the property hoarding wave in today's Xiongan is in stark contrast with the entrepreneurship in Shenzhen three decades ago, fingers should not be pointed at the speculative investors in Xiongan. Although their speculative purchases certainly must be stemmed, as the authorities are rightly seeking to do, they are simply pursuing the highest profits, which is the natural logic of the business world.
The changing business environment for start-ups is actually behind the different mentality of people in Shenzhen many years ago and Xiongan today.
Back in the 1980s, China had just begun its reform and opening-up and sent the first encouraging signals to private business. Shenzhen as a new special economic zone enjoyed many preferential policies, such as tax cuts, low-priced or even free land, and easy market entry, thus attracting the first batch of courageous people with a pioneering spirit to move to the ever ballooning city to pursue their Chinese Dream.
Over the next three decades, the Chinese economy developed to become the world's second-largest. China's real estate sector then started to take off in the early 2000s and its development accelerated after 2010, with housing prices continually soaring in large and mid-sized cities, helping real estate developers and investors make great fortunes that would not have been possible otherwise. As a result, more and more business owners in traditional manufacturing sectors have shifted to property investment to make money.
Meanwhile, as housing prices continue to rise, many people find it financially very difficult, if not entirely unaffordable, to start a new business now, because the rent, plus the rising cost of labor (highly influenced by rising rent), constitute a heavy burden for them.
Even before the Xiongan New Area plan was released, there were large numbers of real estate speculators wandering around every corner of the country, especially the major cities, in search of real estate investment opportunities. So it is not surprising they instantly rushed to Xiongan once the news was released on Saturday.
The author is a senior writer with China Daily.
xinzhiming@chinadaily.com.cn