Belt and Road projects ideal for Western firms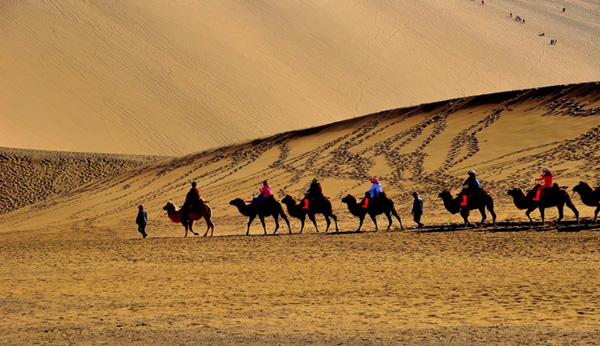 Tourists ride camels on the Mingsha Sand Dunes during a visit to Crescent Moon Spring on the outskirts of Dunhuang county of northwest China's Gansu province. [Photo/China Daily]
The Belt and Road Initiative, comprising the Silk Road Economic Belt and the 21st Century Maritime Silk Road, has borne enough fruits in its third year, yet it is expected to yield much more in the future.
More than 100 countries and international organizations have become part of the China-led initiative, and over 30 countries along the two routes have signed cooperative agreements with China. The Belt and Road Initiative has also won the approval of important economic blocs such as the European Union and the Association of Southeast Asian Nations, and quite a few member countries of the two blocs have signed trade and investment agreements with China. Moreover, the United Nations resolution on Afghanistan passed three months ago voiced vocal support for the initiative, encouraging all UN member states to take part in it to revive the war-stricken country's economy.
Last year alone, Chinese enterprises invested at least $14.5 billion in markets which make up the network that connects Asia, Europe and Africa, and covers more than 60 countries and regions with a population of about 4.4 billion. They have also set up some 65 trade cooperation zones along the way.
These achievements would not have been possible without the support of local governments and enterprises, testifying to the fact that the Belt and Road projects can live up to their inclusive, reciprocal nature. Although most of the projects are about infrastructure connectivity, meaning considerable funds are often needed to start them and making profits can take some years, participating enterprises, particularly those in the West, can manage to grab a decent share of the profits if they play along.
As a long-term strategy endorsed by global economies, the Belt and Road Initiative has great potential to continuously create investment opportunities, because most of the countries it covers are emerging or developing economies where demand is huge and will keep on rising. Besides, Western investors have an edge when it comes to overseas operation, which can help them invest wisely and benefit greatly from the initiative.
In their initial stages the Belt and Road projects will focus on infrastructure, and investment opportunities are often embedded in the construction of ports, railways, airports and telecommunication facilities in developing countries. But as their "hardware" conditions improve and demand for high-end manufacturing, technological innovation, medical and financial services increases, Western enterprises will be able to make the most of their expertise in these sectors and translate it into considerable profits.
Unlike their Chinese counterparts which simultaneously invest, build and operate in overseas infrastructure projects, Western enterprises have flexible investment options, ranging from investing in green projects to cooperating with Chinese investors or other third-party participants.
Internet-driven innovation like cross-border e-commerce is another boon to Western companies aspiring to go global. Take for example the delivery service. Chinese e-commerce leader JD.com has teamed up with the government of Northwest China's Shaanxi province to build the world's first drone delivery network for low-altitude unmanned aerial vehicles on a large scale.
As China makes progress in tapping the huge potential in cyberspace trade and investment, internet companies in the developed economies have good reasons to create more convenient online platforms like the US e-commerce giant Amazon.com, and enjoy the dividends of the Belt and Road projects.
The author is an associate researcher at the Chinese Academy of International Trade and Economic Cooperation at the Ministry of Commerce.