Moderate hike in defense budget a necessity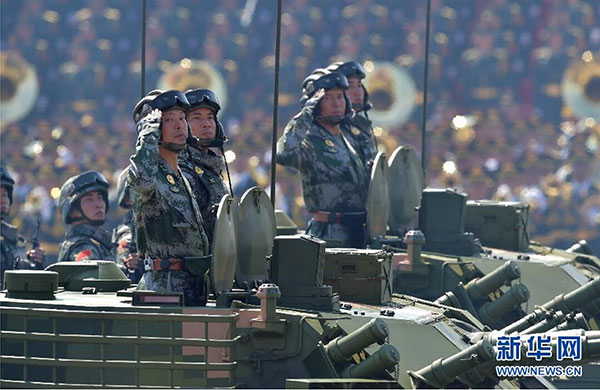 Major general Li Ming leads his formation during the military parade in Beijing, Sept 3, 2015. [Photo/Xinhua]
China's defense budget has always made headlines during the annual sessions of the National People's Congress and the Chinese People's Political Consultative Conference National Committee. This year the defense budget will increase by about 7 percent, and the military spending will account about 1.3 percent of GDP, according to the NPC press release on Saturday.
The fact is, the moderate increase in China's defense spending is a necessity. The modernization of the military is in line with China's security needs and its responsibility as a major power to maintain global stability.
Started in 2015, China's deepening national defense and military reform, from the reorganization of certain military services to the relocation of some troops, costs money. Plus, raising the pay of military personnel and funding research in advanced weapons, which are also part of the reform, warrant a well-balanced defense budget.
China's invaluable contributions to world peace, particularly its participation in more United Nations peacekeeping missions in recent years, would not have been possible if it stuck to a stingy defense budget. Offering public goods to the international community, be it combating pirates in Somalia or protecting civilians in South Sudan, comes at a great cost in terms of equipment maintenance and personnel training.
For years, China has kept its defense budget around 1.3 percent of its GDP — below that of Western countries in terms of percentage — and is likely to keep it that way. And it remains true to its defense-oriented military strategy and independent diplomacy.
In contrast, US Defense Secretary James Mattis urged NATO members less than a month ago to consider increasing their military budgets to the "benchmark goal" of 2 percent of GDP.
Moreover, China faces a series of uncertainties.
The United States has stepped up efforts by enhancing its military presence in the Asia-Pacific region and strengthening its alliances with countries such as Japan and the Republic of Korea.
Apart from deploying the cutting-edge F-22 Raptor and F-35 Lightning II stealth warplanes at its military bases in China's neighborhood, the US is also sending its aircraft carrier strike groups and other warships more frequently to patrol the South China Sea in the name of "defending freedom of navigation". And President Donald Trump seeks to increase the US' defense spending by 10 percent, or $54 billion.
The geopolitical situation in Northeast Asia is plagued by tensions and risks of confrontations. The nuclear issue of the Democratic People's Republic of Korea has become increasingly complicated, while the US and the Republic of Korea hold frequent joint military drills. Despite China's strong opposition, the ROK's defense ministry signed a land swap deal with Lotte Group on Tuesday for the deployment of the US' Terminal High Altitude Area Defense anti-missile system.
That is not all. Having managed to muscle through the controversial new security bills two years ago, Japanese Prime Minister Shinzo Abe's administration has also unveiled plans to reinforce the country's missile defense system and increase its budget in the next fiscal year.
China has a defensive defense strategy, and it is not willing to join in any arms race or flex muscles. The rising nation always cherishes dialogues to resolve many thorny issues. However, given the increasingly complicated international situation and security risks, China has to build up its military to better protect its interests.
The author is former director of the Institute for Strategic Studies at the People's Liberation Army National Defense University.