Phasing out outdated practices through advocacy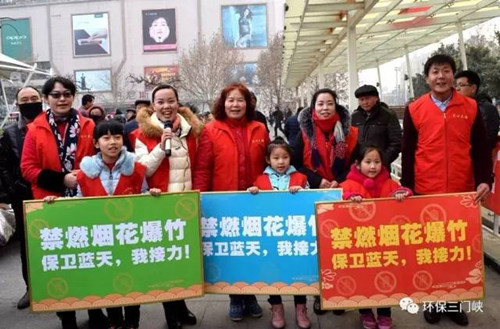 Volunteers take part in firework-free publicity in Sanmenxia's Dazhang Square, Jan 18, 2017. [Photo/Sanmenxia Daily]
A series of recent local regulations targeting civil servants has drawn huge media attention. Kaili, a city in Southwest China's Guizhou province, issued a regulation on banquets which, among other things, says officials can hold a banquet for only their "first marriage".
The regulation says officials should not organize a banquet if they get married a second time (after divorce from or the death of their first spouse) because they cannot have two banquets for the same reason. It also says people should fill out an application form and submit it to the relevant local department saying when they plan to hold a wedding banquet, and the application will be kept by the local disciplinary authority as part of their personal record.
In Binxian county, Northwest China's Shaanxi province, the local government even issued a specific rule that says the prices of cigarettes and wine offered to guests at banquets should not exceed 10 yuan ($1.5) a pack and 100 yuan a bottle.
Before this year's Spring Festival, the local government of Zhenjiang in East China's Jiangsu province issued an order banning government employees from setting off fireworks, in order to "reduce" air pollution.
The original intention of these rules is obviously a response to the austerity campaign launched by the central government in 2012. The campaign has seen thousands of officials being reprimanded or demoted for leading an extravagant lifestyle, including holding lavish banquets.
On important familial and social events such as weddings, the invited guests, out of tradition, offer fenzi (gifted money). So, it appears the Kaili local government's regulation is aimed at preventing officials from making money by holding banquets. And government officials are obliged to set a good example for the public to follow by strictly adhering to the austerity rules.
But administrative efforts to change centuries-old tradition and culture don't seem to be a wise move. Holding banquets on special occasions, even a second marriage, has long been an accepted practice across China. Besides, a local government has no legal basis for setting restrictions on the prices of wine and cigarettes offered at banquets.
Prohibiting civil servants from setting off fireworks, too, appears to be an unwise move. Setting off fireworks during Spring Festival is a tradition that dates back to centuries. Government employees are also social animals, and even though they are obliged to set a good example for the public, they should not be forced through regulations to do so.
Ordering people to abandon centuries-old traditions through administrative orders will raise public concerns.
Moreover, a recent circular from the central government instructed State-owned enterprises and institutions to ensure their employees are not deprived of their legitimate welfare benefits.
By issuing restrictive rules, the local governments have shown they are incapable of curbing extravagance through normal means. It's time such local governments realized the difference between "advocacy" and "regulation" when mapping out their policies.
A more scientific approach would be to encourage, rather than order, public servants to change their lifestyles by abandoning decadent practices and set a good example for the public to follow.
The writer is an editor of China Daily. lifangchao@chinadaily.com.cn