Reform can reduce study burden of pupils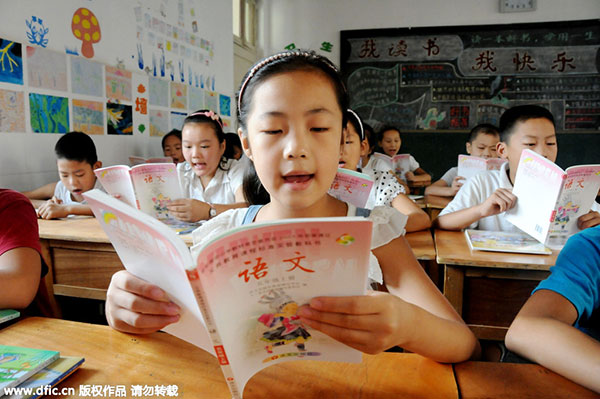 Students read textbooks at a primary school in Luoyang, Central China's Henan province, Sept 1, 2015. [Photo/IC]
Winter vacation has become the third semester for students of primary and middle schools in cities. A Chinese Society of Education survey shows Chinese parents have invested more than 800 billion yuan ($116.5 billion) in primary and middle school students' extracurricular classes. And many people believe students are overburdened by studies during vacations because of parents who make irrational choices and institutions that offer extracurricular classes only to make profits.
But blaming only parents and "special" institutions for the current situation, without reforming the education sector, will not alleviate students' study burden.
Forcing children to attend many extracurricular classes may not be good for their healthy development. But since the distribution of educational resources is highly unbalanced in China with key primary and middle schools accounting for a bulk of the resources, parents who can afford to pay have no choice but to send their children to extracurricular classes fearing that they may not be able to get admission to key primary and middle schools, and eventually fail to enroll in colleges.
The economic output of social training institutions in China reached 800 billion yuan last year, and training classes for the primary and middle school courses accounted for a majority of the overall output. But the promotion of social training institution alone is not to blame for that.
The massive market for training classes for the primary and middle school courses has developed to meet the unreasonable demands of extracurricular classes because of the unbalanced distribution of compulsory educational resources and the senior high school entrance examination and national college entrance examination. So the exam-oriented education system is to equally blame for the current situation.
The education authorities always require local primary and middle schools to reduce the burden of exams and homework on students. But only when the exam-oriented education system is reformed can parents stop sending their children to extracurricular classes and not fear that they might lose the competitive edge in future competitions.
Some so-called experts suggest schools hold only half-day classes to reduce students' education burden, but suggestions such as these are what sound like music to the ears of social training institutions.
It is ironic that education authorities advice parents not to focus on their children's academic scores and tell schools to lower students' academic performance requirements, but continue to admit students to high schools and colleges on the basis of their entrance exam scores.
There is no reason to doubt the good intentions of the education authorities when it comes to reducing students' burden. But administrative regulations and restrictions can only reinforce administrative power while hardly achieving the original goal.
One reason for the unbalanced distribution of educational resource is that the administrative authorities oversee the process. For instance, almost every given area has some "super" senior high schools that by default get a majority of the local educational resources and good students. These schools, which aggravate the unbalanced distribution of educational resources in local areas, are always supported and promoted by local administrative authorities because they add weight to their political achievements.
It is difficult to reform the senior high school and national college entrance exams mainly because the education authorities are unwilling to delegate their power to other agencies. The separation of admission and exam scores would require the education authorities to delegate the power to evaluate exam scores to social professional agencies, and the independent right of running a school to the school officials, and to give students the right to choose the school or college they want to get admitted to. And all this can be achieved-and students' education burden can be reduced-only when the exam-oriented education system is thoroughly reformed.
The author is deputy director of the 21st Century Education Research Institute.