Guanghua-Kellogg EMBA program leverages mutual strength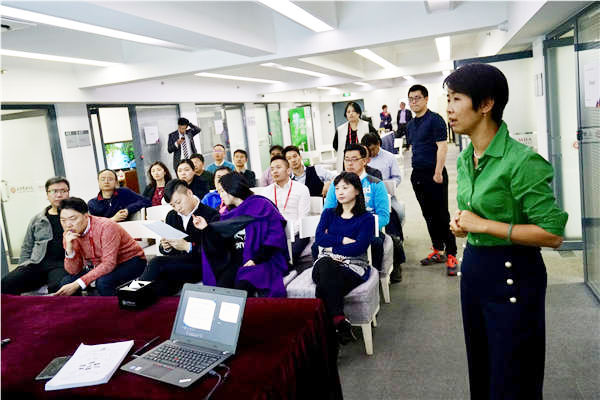 Associate professor Zhai Xin gives a lecture to EMBA students at Guanghua School of Management in Peking University on March 21. Photos by Zhang Zefeng / China Daily
Three years ago, the Kellogg School of Management at Northwestern University partnered with Peking University's Guanghua School of Management, setting up China's first English-language Executive MBA program.
Since then, three cohorts, 101 students have enrolled in the 22-month Guanghua-Kellogg Executive Master of Business Administration program.
On March 21, Greg Hanifee, the associate dean of Kellogg's Executive MBA Global Network visited the Guanghua School of Management.
Speaking about the program, he says: "We've changed a little bit of the structure of the program to create a more concentrated experience.
"We've also expanded opportunities for them to study in different campuses across the globe."
The Guanghua-Kellogg EMBA program offers integrated and theme-based curriculums, such as executive leadership and strategy and implementation in China.
Students also get the opportunity to take elective courses in Kellogg's partner schools, including York University in Canada, Tel Aviv University in Israel and Hong Kong University of Science and Technology.
According to Zhai Xin, an associate professor at the Guanghua School of Management, the program leverages the strengths of both universities.
"Kellogg's strength is marketing and strategy," she says. "But we are very strong in micro economy, general management, finance and China-related operations."
Zhai also says that over the years, the program has seen many positive signs, including a growing number of applicants, and more qualified students from diverse backgrounds.
For students who are not familiar with the Chinese mainland, the Guanghua-Kellogg program offers them new perspectives.
Linda Chen, a Taiwan businesswoman who has spent the past 15 years in the United States, sees the program as a good entry point.
"I wanted to understand more about the culture, the people and how things operate here," says Chen, senior director of the global supply chain of Chenbro Micom Co Ltd.
And, after a year and a half of studying and interacting with classmates, Chen has improved her professional knowledge.
The program is also part of the Kellogg Executive MBA Global Network where students can join the global alumni network of more than 72,000 members from 113 countries and regions.