Artist uses a drum to make his work striking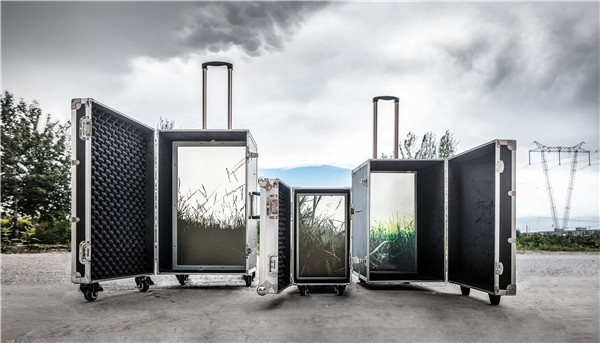 Leaving, an installation by Zheng Lu, is among the pieces on show at the Shanghai exhibition. [Photo provided to China Daily]
He was once a drummer in a school band, but Zheng Lu has now installed the 12-meter-high "musical instrument" at a solo exhibition in Shanghai.
The 38-year-old Beijing-based artist has strung about 10,000 aluminum plates together to create a high-rise structure in the shape of a tower. It stands in the middle of an exhibition hall in the Long Museum's West Bund space.
Nearby, a mechanical unit manipulated by computer programs keeps pulling up steel balls and dropping them on the aluminum structure. The falling balls then strike the plates to produce pleasant sounds.
When the exhibition was opened on Oct 29, visitors were invited to throw steel balls directly into the plates, by which they helped to enrich the presentation.
Zheng calls the installation Resistance, which is also the exhibition's title.
The idea for the name comes from how the sound is produced.
When the aluminum plates prevent the balls from dropping, this resistance is transformed into ringing.
Zheng says he was inspired by percussion to create the work.
Every plate is like a percussion instrument. Together with the balls, they create music.
The work continues Zheng's exploration with sound. Last year at his exhibition at the Museum of Contemporary Art Taipei, he presented an installation in which drops of water fell onto a steel plate to create soft sounds.
"Music has always been what I want to play with. And sound is the future of the art world, " says Zheng.