2017 Chinese Language Spectacular showcases talents of Australian students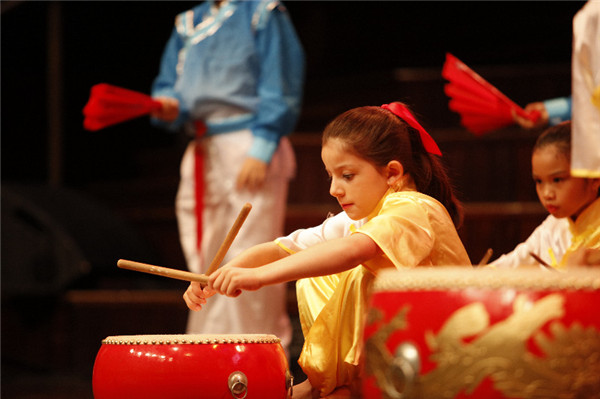 Rouse Hill Public School students perform music ensemble Yin and Ynag in Motion. [Photo/People's Daily Online]
On Monday October 23, the 2017 Chinese Language Spectacular at Sydney Town Hall showcased the talents of Chinese language students across New South Wales, Australia.
Organized by the Confucius Institute at University of New South Wales and the Chinese Language Teachers Association of NSW, this year's event coincides with the 45th anniversary of the establishment of Australian-Chinese diplomatic relations.
"I hope that with events like tonight's Spectacular, we continue to build stronger bridges of friendship between our two countries. It is exciting to see young people engage with Chinese language and culture, as they are our future," said Niu Wenqi, Education Counselor of the Chinese Consulate General in Sydney.
Dr. Emma Junfang Xi, the Chinese director of the Confucius Institute at UNSW, stated that this event is to provide a platform for students studying Chinese to express their interest in Chinese language and culture. This year, approximately 800 students from 36 local schools and universities participated in the Spectacular.
The program incorporated both well-known Chinese and Australian songs, a symbol of the celebration of the cultural bridges and educational ties between the two countries.
"It is through their [students] efforts and understanding that the China-Australian connection will continue to flourish," said Mr. Niu.
"[It is] exciting to see Chinese language education thriving so well in our schools … At UNSW, we are seeing growing interest in Chinese Studies," said Professor Les Field, Senior Deputy Vice-Chancellor at UNSW. "These days, savvy students know the value of speaking Mandarin."
There were traditional Australian bush ballads, such as "Waltzing Maltida" and "Click Go the Shears," as well as Chinese pop classics, such as "Friends" and "Singing and Smiling." The night concluded with students performing an English and Chinese rendition of "Auld Lang Syne," the famous folk song that illustrates sentiments of friendship as old as time.
By bringing together talented students from across New South Wales, the Spectacular has established itself as one of the most prominent Chinese language and culture events of 2017.